Is excessive weight gain during pregnancy dangerous?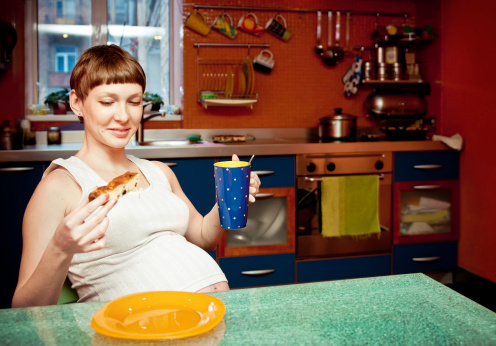 For moms-to-be, a common misconception is to "eat for two" during their pregnancy. While extra calories are important, the reality is that pregnant women need to be mindful of how many calories they consume and how much weight they gain. New research finds that excessive weight gain during pregnancy can lead to serious health risks for both mom and baby. 
"There is a complex set of messages that are leading to maternal weight gain in pregnancy and excess calories for the baby," says Dr. Stephen Gladdin, an obstetrician-gynecologist on staff at Advocate Sherman Hospital in Elgin, Ill. "Excessive weight gain can result in a large baby and complications during delivery. We're also finding that oftentimes what happens during pregnancy can impact a baby later on in life with obesity, diabetes and other risk factors for chronic diseases."
The study, published in the journal Obstetrics & Gynecology, found an association between pregnancy-related weight gain and greater risk of health problems for baby. Researchers analyzed data from births that took place from 2004 to 2008. Only 5.7 percent of women with normal weight gain during pregnancy had large babies (defined as weighing at or above the 90th percentile for gestational age). Women with pregnancy-related diabetes (who did not gain excessive weight) had the least likelihood of having a large baby (2 to 8 percent depending on race and ethnicity). 
For women who were overweight or obese, 12.6 percent had large babies. In comparison, 13.5 percent of women who gained excessive weight during pregnancy had large babies. If these women also had gestational diabetes, their risk of having a large baby jumped to 17.3 percent.
According to Dr. Gladdin, a large baby can lead to complications during delivery, including a higher risk for cesarean section. In fact, another recent study found a link between overweight mothers and cesarean delivery.
"Even though we do many C-sections, it becomes a higher risk procedure, especially if the mom is overweight or obese. C-sections also increase risks during future pregnancies," Dr. Gladdin says.
Another potential concern among large babies is a condition known as shoulder dystocia, he says, where a baby's head is delivered but the shoulders get stuck.
"Shoulder dystocia is an emergency situation that can not only cause serious injuries for the baby, but in severe cases can lead to death," Dr. Gladdin says. 
To reduce the risk of complications, Dr. Gladdin recommends that women reach their ideal body weight prior to pregnancy. If this is not achievable, they should lose as much weight as possible. During pregnancy, women should focus on eating a well-rounded diet containing plenty of fruits, vegetables and lean meats. "It's impossible to think that pregnant women won't have cravings for junk food," Dr. Gladdin says. "I tell my patients that moderation is key and to make an effort to eat healthy." 
Additionally, exercise is key to prevent weight gain during pregnancy, whether taking a walk around the neighborhood or yoga class. 
"It can be difficult to exercise regularly with work and family obligations, but pregnant women need to make the time," Dr. Gladdin says. "There are many proven benefits to exercising during pregnancy beyond preventing weight gain, including better preparing the body for childbirth and reducing the discomforts of pregnancy."
Related Posts
Comments
About the Author
health enews staff is a group of experienced writers from our Advocate Aurora Health sites, which also includes freelance or intern writers.