The 411 on the DASH diet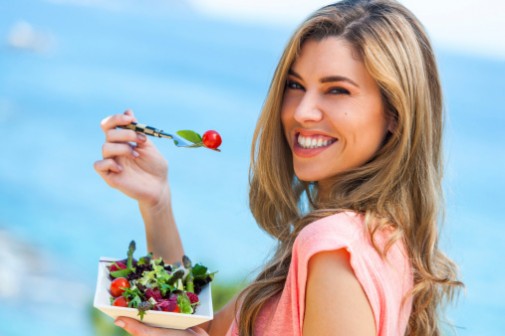 For the past four years, the DASH Diet has ranked the best overall diet by U.S. News & World Report. But unless you do your research, chances are Weight Watchers or Jenny Craig are what come to mind when you consider a diet.
The DASH, or Dietary Approaches to Stop Hypertension, was developed not as a weight-loss tool, but as an easy-to-follow approach to healthy eating. The plan was created by the National Heart, Lung and Blood Institute (NHBLI), a division of the U.S. Department of Health and Human Services, in an effort to combat the nation's rising tide of high blood pressure, or hypertension, in adults.
Since then, the diet plan has been embraced by health professionals, being adopted and adapted as the basis for healthy eating plans in hospitals, schools and even a New York Times bestselling book, The DASH Diet Weight Loss Solution.
"The DASH Diet is considered by many health experts to be a common sense approach to maintaining a healthy, well-balanced diet," says Barbara Melendi, registered dietitian with Advocate Illinois Masonic Medical Center in Chicago. "It emphasizes low intakes of saturated fat, total fat, dietary cholesterol, lean red meat, added sugar and sodium, and focuses on the consumption of fruits and veggies, fat-free or low-fat milk products, whole grains, fish, lean poultry and nuts."
Though the heavily researched DASH Diet was originally conceived as a method of reducing blood pressure, Melendi says its benefits can be seen by anyone looking to maintain a healthy, well-balanced diet. A well-balanced diet recently has been linked to breast cancer survival and improved daytime vigor. And the DASH Diet can even be used as a weight-loss plan.
"A lot of people are looking for a healthy, scientifically proven diet," Melendi says. "They don't want any more fads. The DASH Diet is a good alternative for making real lifestyle changes that will impact your health. And, by cutting out unhealthy foods and increasing the fruits and vegetables you eat, weight loss can certainly be an added bonus."
Melendi says the DASH Diet is one of the most scientifically researched diets available and, for the most part, is free on the NHBLI website. The plan is easy to follow and can be broken into components, making it easier to adopt.
"This isn't an all-or-nothing approach to dieting," she says. "You don't have to change the way you eat all at once. Individual portions of the plan have definite health benefits alone, so you can work parts of the plan into your lifestyle one by one. Portions of the plan even can be modified for health conditions like diabetes."
Endorsed by the Academy of Nutrition and Dietetics, the world's largest organization of food and nutrition professionals, the DASH Diet is seen as a safe, balanced diet plan that anyone can adopt, Melendi says. One of the biggest advantages, she says, is that it doesn't remove any food groups from your diet—no going cold turkey on fat or carbohydrates, which your body needs in balance to function at its best.
"And it's freely available," Melendi says. "It doesn't require any expensive food or pills or powders. There are no special shakes. The plan makes you feel full and satisfied, because you're getting everything your body needs."
Related Posts
Comments
About the Author
health enews staff is a group of experienced writers from our Advocate Aurora Health sites, which also includes freelance or intern writers.