Young volleyball players, pitchers suffer same overuse injuries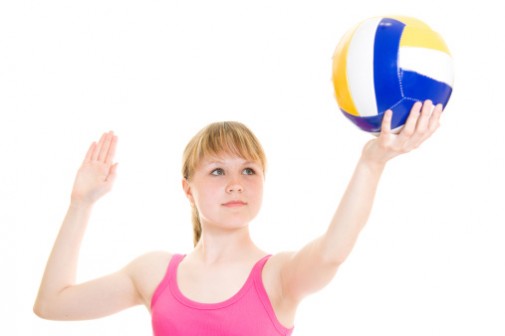 This spring starts baseball season for young athletes, and unfortunately, with the season comes injuries. For young pitchers, overuse injury is common, particularly in the shoulder and elbow. New data from the sports medicine program at Children's Hospital in Los Angeles indicates that volleyball spikers may also suffer from a similar condition.
"Because cartilaginous growth plates are vulnerable to injury, overuse injuries are more likely to occur in the skeletally immature athlete and especially during the adolescent growth spurt," explains Dr. David Lessman, pediatric sports medicine physician at Advocate Children's Hospital in Park Ridge, Ill.
Dr. J. Lee Pace, director of sports medicine at Children's Hospital in Los Angeles, explained in a statement that pitching a baseball requires muscle movement and energy that starts from the bottom (feet and legs) and heads north from there up into the shoulder through the arm to the hand. During overhead serves and spikes, volleyball players also follow this same movement.
This similar motion sends a large amount of energy from the shoulder to the rest of the body and down the arm. When this muscle gets overworked due to too many pitches or serves, it causes the shoulder muscles to tighten. This in turn causes the shoulder to function improperly causing injury to the shoulder and the elbow. Many times it can even result in pain only in the elbow while the shoulder remains pain-free.
"Recent studies have shown that youth pitchers who throw more than one hundred innings per year are nearly four times more likely to be injured," says Dr. Lessman."Those who pitch more than eight months per year are more likely to require shoulder and/or elbow surgery," he adds.
Dr. Lessman points out that volleyball and baseball players are not the only ones susceptible to overuse injury. "Other sports use the same overhead motion including volleyball, tennis, lacrosse and swimming," he says.
For baseball pitchers, sports medicine specialists may refer to guidelines from the USA Baseball Medical & Safety Advisory Committee for recommendations on how much rest is needed based on age and number of pitches, said Dr. Pace. However, there are no similar guidelines for volleyball players as not much research has been conducted on their overuse issues.
Dr. Lessman offers some recommendations for young athletes on best ways to prevent shoulder and elbow injuries:
Practice good mechanics (hitting in volleyball, throwing in baseball).
Participate in a preseason workout to develop excellent core strength and flexibility.
Warm up properly by running, stretching and with gradual increase in intensity of activity.
Take at least three months off per year from sports involving overhead throwing motions. (Baseball pitchers should avoid pitching on multiple teams with overlapping seasons.)
If pain does occur, it is important not to throw through the pain and to seek medical care.
Related Posts
Comments
About the Author
health enews staff is a group of experienced writers from our Advocate Aurora Health sites, which also includes freelance or intern writers.