Colon cancer survivor gives back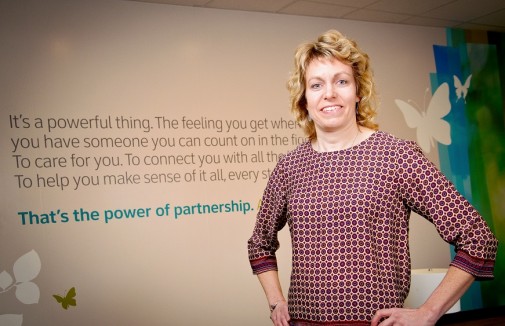 Whether running, biking or boxing, Bartlett, Ill., resident Sharon Wells has always been an advocate for leading a healthy, active lifestyle. Sharon, 45, would often encourage her family, friends and colleagues to partake in fitness activities such as pilates classes, local 5Ks and the annual Hustle Up the Hancock race in Chicago. Despite being the picture of health, Sharon's life changed forever on August 9, 2013—the day she was diagnosed with stage 1 colon cancer.  
Not your typical profile
During the Hustle Up the Hancock race in February 2013, Sharon began to notice changes in her fitness level—the first sign that something wasn't right. 
"I didn't run up the steps as quickly as usual," Sharon says. "I wasn't too concerned since I didn't train as hard as previous years. Since I was still beating people who were younger than me, I figured it was no big deal." 
As time went on, Sharon began to feel exhausted, lightheaded and dizzy during her fitness activities—unusual symptoms she attributed to stress and a busy schedule. 
"I'm thankful that I'm very active and health conscious because it made changes in my physical state much more noticeable," she says.   
Thinking her symptoms could be perimenopause, Sharon made an appointment in June with her obstetrician/gynecologist and had blood work done. 
"My hemoglobin level was very low for someone of my age with no obvious reason why, so I immediately made an appointment with Dr. Ellen Aleksandrovich, my primary care doctor," Sharon says. 
Dr. Aleksandrovich, an internal medicine physician on staff at Advocate Sherman Hospital in Elgin, Ill., performed a series of tests and ultimately found blood in her stool sample—a possible sign of colon cancer. Concerned about the results, she referred Sharon to Dr. Sonia Godambe, a gastroenterologist on staff at Advocate Sherman Hospital in Elgin, Ill.
"I'm not the typical profile of a colon cancer patient—I'm active, young and healthy, with no family history of the disease," Sharon says. "At that point, I was thinking it had to be an ulcer, nothing too serious."  
Journey to a diagnosis
Sharon met with Dr. Godambe who urged her to schedule a colonoscopy as soon as possible. However, Sharon and her husband Devin had a family vacation planned to Yellowstone National Park in Wyoming the following week. 
"We were about to go on vacation and I thought the colonoscopy could wait until later," Sharon explains. "Dr. Godambe called me at work multiple times to tell me how important it was to get the screening. I'm thankful she was so persistent."
Realizing the seriousness of her situation, Sharon had a colonoscopy on August 2, the day before she left on vacation. Images from the colonoscopy showed a large mass in her ascending colon. It would take about a week to get the results back to confirm if the mass was indeed cancer.
"It was a big shock," Sharon admits.  
Sharon and Devin kept their vacation plans, but anxiously awaited the results. While hiking in the mountains, Sharon got the call she had been dreading since her colonoscopy. 
"I was told I had colon cancer," Sharon says. "Cancer is such a powerful word. That was tough for me and my family." Perhaps the one positive, Sharon recalls, is receiving the news in a peaceful setting with no one around except her family. "If you're going to find out you have cancer, it's probably best to be in the middle of nowhere," she laughs. 
Colon cancer on the rise 
According to Dr. Godambe, Sharon's story highlights new research that finds an increased incidence of colon cancer among younger people. 
"While incidence of colon cancer is decreasing in people age 50 and older, it appears to be on the rise among the younger population," Dr. Godambe explains. 
Symptoms of colon cancer are often vague and related to anemia, as in Sharon's case, such as fatigue and weakness. 
"Any time you have anemia or iron deficiency with no obvious cause, a GI examination should be done," Dr. Godambe says. "Other symptoms of colon cancer include changes in bowel habits, bleeding in the stool and persistent stomach pain or cramps." 
Colonoscopies are recommended at age 50, but younger people with a family history of colon cancer should get screened earlier, Dr. Godambe stresses. Other tests such as a stool analysis are effective ways to get checked for possible signs of colon cancer.
Excellent care
When Sharon returned home, she met with Dr. Raul Aron, a general surgeon with Advocate Medical Group in Elgin, Ill., to discuss the surgery to remove the cancerous mass. 
"In younger people, because there aren't as many noticeable symptoms, colon cancer usually isn't detected until a later stage," Sharon says. "I'm blessed to have caught it at an early stage." 
On August 19, Sharon underwent a right hemicolectomy at Advocate Sherman Hospital. During this procedure, Dr. Aron removed the mass, 20 percent of her colon and 32 lymph nodes. 
Looking back on her experience, Sharon expresses gratitude for the wonderful care she received at Sherman. "At every level, from pre-surgical testing through my hospital stay, I received excellent care," Sharon says. "I'm also in the healthcare profession, so I have very high standards. With that said, Sherman and their support staff delivered. Because of the wonderful treatment I received, I now have an 85 to 90 percent survival rate." 
Giving back
During her recovery process, Sharon and Devin decided they needed a goal to help turn a negative experience into a positive one. They reached out to the Colon Cancer Coalition, a charity that helps to raise funds for colon cancer education, awareness and prevention. 
"We were very impressed with the organization, particularly how they distribute the majority of funds raised back into the community that helps raise them," Devin explains.  
When they discovered the charity was sponsoring a fundraising 5K called Get Your Rear in Gear in Chicago, Sharon and Devin immediately signed up.
"Our initial goal was to walk the 5K with friends and family to support raising funds and awareness of colon cancer," Sharon says. "However, as we were walking the race, our family decided that our ultimate goal should be to bring this event to Elgin." 
With support from the Colon Cancer Coalition, Sharon and Devin will be hosting the Get Your Rear in Gear – Elgin on August 2, 2014—exactly one year after her life-saving colonoscopy. The race will be held at Fitchie Creek Forest Preserve in Elgin. 
"This will be the inaugural year, and we hope to grow this race bigger every year," Sharon says. "Our wish is to make Advocate Sherman Hospital a local recipient of the funds we raise to help expand colon cancer education and prevention in the Elgin community." 
For more information and to register for Get Your Rear in Gear – Elgin, click here. 
Check out this video of Sharon's story, here.
Photos by James Jordan Photography.
Related Posts
Comments
About the Author
health enews staff is a group of experienced writers from our Advocate Health Care and Aurora Health Care sites, which also includes freelance or intern writers.