Hip replacement helps patient climb mountain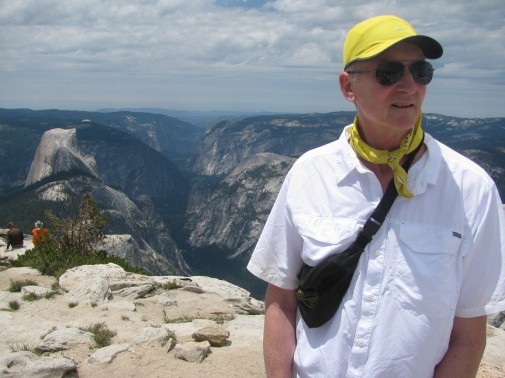 One year to the day from Russ Small's hip replacement, he stood atop a 3,000 foot peak in Yosemite. His journey to the top, however, was longer than a 15-mile hike.
The year before, Russ Small was only 62, but found that he couldn't keep up with his three boys while on short hikes. The active Libertyville, Ill., resident had always enjoyed camping and hiking with his family.
"It was troublesome to me that I couldn't keep up," Small says. "I found that I couldn't even do a half mile of walking before knee and hip pain caused me to have to stop."
But it wasn't his knees that were the problem. Small was suffering from osteoarthritis in his hips—a steady deterioration of cartilage in his hip joint that many people experience over time. Typically, physicians recommend a light exercise or stretching routine to help curb the symptoms of osteoarthritis in the hip. However, if the condition worsens, hip replacement surgery may be the best option.
According to the Agency for Healthcare Research and Quality, more than 285,000 total hip replacements are performed each year in the United States. As the population ages, total hip replacements are expected to become even more common.
Dr. John Mayer, Small's orthopedic surgeon at Advocate Condell's Orthopedic and Spine Institute in Libertyville, Ill., said, "Physiologically, Mr. Small was on the younger side for a hip replacement. It is a little less common in the 50s or 60s age group, however, he was an active individual, and began noticing other symptoms."
"I started overcompensating for my hip pain, which really affected my knees," Small says. "I'd never had knee problems before, but it was because of my modified walk. What really did it for me was that I was beginning to think that I was doing more harm to otherwise healthy parts of my body by not doing anything about my hips."
That's when he went to Dr. Mayer who recommended that Small undergo a minimally invasive hip replacement procedure. Dr. Mayer used what is called the "new enhanced posterior approach," in which he made a small incision in Small's buttocks to remove the arthritic bone  and insert the implants of the replacement joint.
According to Dr. Mayer, the speed of recovery using the posterior approach is similar to other procedures in which surgeons repair the hip from the front (anterior approach).
"The procedure is about an hour and a half," Dr. Mayer says, "and recovery varies based on a patient's age, activity and overall health. A healthy patient might be on a walker for a week, a cane for three to four weeks, and the vast majority of patients are back to being active by six weeks."
That was the case with Small. "Within six weeks of the operation, I was no longer using a cane, and I was back at the gym regularly."
Small knew he was better when, exactly one year to the day after his hip operation, he climbed Clouds Rest Mountain in Yosemite National Park while on vacation with his family.
"One of the kids wanted to do it," Small says, "and I thought, 'Why not'? It was 15 miles and about 3,000 feet of elevation. And the only things that hurt afterward were my feet."
Related Posts
Comments
About the Author
health enews staff is a group of experienced writers from our Advocate Aurora Health sites, which also includes freelance or intern writers.