We all run Boston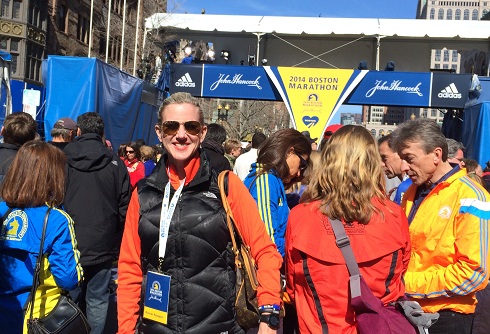 As the pain and fatigue in my body begin to diminish, the memories of my experience on April 21st continue to burn bright.
It was a chance of a lifetime, a dream come true for any runner – the Boston Marathon. While this would be a momentous occasion any year – this year, the 118th Boston Marathon would represent so much more than the completion of physically grueling 26.2 miles. This year over 36,000 runners, a million plus live spectators and hundreds and thousands of Americans would come together to take a stand against terrorism and fear – a stand to be Boston Strong.
While I knew the emotions of the day would provide the adrenalin so key to completing the mileage – I also was plagued with the realization that my most significant injury to-date would be slowing me down. Just three weeks before race day, I took a significant fall down a staircase – tearing a muscle in my lower back and developing a large hematoma to boot. Thanks to the support and encouragement from the Athletico staff in Wheaton, Illinois – I spent the weeks prior to the big day "training" in a zero-gravity treadmill. Perhaps more important than the workouts, were the words of encouragement and support their entire team offered me during my daily visits.
As I arrived in Boston two days pre-race – the sense of pride and determination of an entire city was palpable. Signs were hung along storefronts, individuals adorned their Boston Strong attire and news coverage was full of the stories of heroism and hope.
The day before the run as I made my way to the swarming expo to pick up my packet and purchase my share of Boston Strong merchandise – I joined thousands of others in walking to the finish line – not to cross it until the next day. As I neared the large blue banner, I came across a small fenced in area along the spectator area. There I found a small cross, a pair of tattered running shoes and a small spray of yellow tulips. I was overcome with emotions – thinking back to the coverage I had been glued to just one year before. At that moment, just 12 hours before gun time, I reaffirmed there was no injury or pain that would keep me from crossing the finish line that next day – crossing it for those who weren't able and crossing it to show through determination and commitment – anything is possible. In the words radiating across Boston, "we will finish this race."
As most marathoners, I found the night before the big day plagued with sleepless tossing and turning. As my alarm sounded – I already sit wide-eyed and ready to go. I took a cab to a bag check area, then to a bus and a 45 minute ride to the Hopkinton. Once in the runner village – I made my way through over 30,000 runners – finding a small piece of grass on which to perch my one disposable blanket. And here I sat in the 30-something degree morning, for over two hours awaiting my start time.
Some slept, some stretched, some ate and many shared their stories. This is one of my favorite parts of marathon mornings. Like golfers who can recount every last detail of each swing throughout their 18 holes of golf – us runners enjoy sharing details of courses, injuries and inspirations of our love of the sport. I met a woman hoping to beat her PR – breaking three hours, a woman who was just hoping to finish as she supported a local charity and another who hoped to make it to the finish line, as she was stopped at mile 18 last year before the bombs exploded.
As they came across the speakers to announce it was time for my group – the final wave – to make our way to the start line – 4,000 of us began our nearly one mile walk full of excitement and chatter.
This, my 13th marathon, was certainly the toughest course I have done to-date. As a flat road runner – I was ill-prepared for the continuous hills throughout the miles – yet I remained focused with my music (mostly rap) booming at almost top level. The day quickly warmed to the mid 60's with my later start time and I was cautious to stop at every drink station to ensure my electrolyte levels weren't depleted.
I had heard so many horror stories of heartbreak hill at mile 20 and as I neared the point – I mentally prepared for my strategy to push through. As promised, the mile was lined with Boston College students who appeared to have been out all night – offering runners shots of tequila along the way.
My mile 20 – the toughest of them all – was dedicated to Krystle, Martin, Lingzi and Sean – the four killed in the bombings last year. Mile 21 was for my husband Mark. Mile 22 was for my oldest son Jay, mile 23 for my son Luke, mile 24 for my daughter Sophie and that last mile was for me. Focusing all energy and thoughts on these specific individuals was key in helping me push through to the finish line.
Several runners of years past had told me when you see the Citgo sign – you are there. As I could see it just in the distance, I pulled off my headphones and soaked up the crowd. The cheers of encouragement and support were overwhelming.
The emotions were overwhelming as I watched runners pause at the fenced off area I had seen the night before – kneel to the ground momentarily and then regain their footing to cross the finish line.
The day was all I could have hoped for and more. I have such tremendous pride to have been there to share in the Boston Strong movement – to run for those who couldn't and to take a stand against terrorism and fear. As a runner – I did feel a few moments of disappointment in that I had the slowest time of my previous 12, that I struggled with training and injury. Then I remembered that great quote someone had shared the day before – "You start as a runner. You finish as a Boston marathoner."
As I continue my journey to complete 15 marathons – I am uncertain where the next course will take me. But one thing is certain– a little part of Boston Strong will be with me on all my miles that lay ahead.
Related Posts
Comments
About the Author
Kelly Jo Golson, contributor to health enews, is chief marketing officer for Advocate Aurora Health.