Benefits of hiking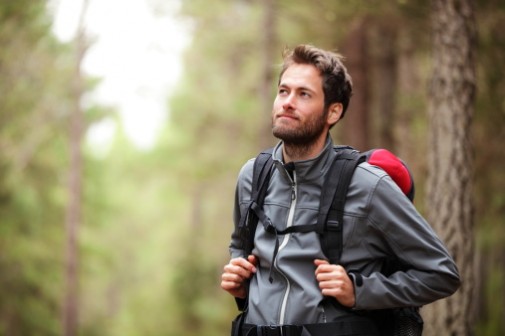 Walking, running, yoga, strength training, among many other physical activities, all boast health benefits. But what about hiking?
A new study by researchers in Austria took a look at what the health benefits could be from just three weeks of regular exercise that include hiking and proper diet among middle-aged men with heart risk factors. 
"Daily hiking for hours at any altitude provides cardiovascular benefits and represents an excellent therapeutic opportunity for physical and mental regeneration even for individuals with a cluster of cardiovascular risk factors," Dr. Gunther Neumayr, a physician in Lienz, Austria, told Reuters Health. 
The study looked at two groups of men, with one of the groups being sent on a hiking vacation at more than a mile above sea level, while another group went on a hiking trip at sea level. The researchers examined the participants after the study and found very similar benefits with no real negatives.
 The 71 participants ranged in age from 33 to 66-years-old. All suffer from metabolic syndrome, which includes high cholesterol, elevated blood pressure, abdominal obesity and other factors placing them at greater risk for heart disease and diabetes. All participants were non-smokers. 
The study, published in the journal Wilderness and Environmental Medicine, was designed to investigate if hiking at moderate altitude – defined as between 5,000-8,000 feet above sea level – would have a different effect than hiking at lower altitudes. Dr. Neumayr and his colleagues said past studies had suggested that people who hike or ski at a moderate elevation run a greater risk of a heart attack, but the new research found no different or adverse effects associated with the higher altitude. 
According to Reuters, the participants took "moderate-intensity hikes that lasted more than two hours each" four days a week, resting on the other three, and all had similar diets of about 1,800 calories per day.
"At the end of three weeks, men in both groups had lost an average of seven pounds and showed similar drops in blood pressure readings, heart rate, blood sugar and similar improvements in cholesterol," Reuters reported. 
"Walking and hiking – the original forms of motion – should be recommended generally and generously for both healthy people and patients with metabolic syndrome," Dr. Neumayr told the news agency. 
The results of the study come as no surprise to Dr. Melinda Einfalt, internist at Advocate Good Shepherd Hospital in Barrington, Illinois, who frequently recommends walking to her patients, especially when the ability to hike is not available in all areas.
"I tell everybody who is able to exercise to do it on a regular basis, and I usually recommend walking as a great way to get started," she says. "It's free, just about everybody can do it, and all you need is a good pair of shoes."
Dr. Einfalt usually recommends a total couch potato start out with 15-20 minutes a day, and every week add five minutes.
"Make whatever exercise you do part of your daily habit, almost like eating or showering," she says.
The "daily" part is very important, according to Dr. Einfalt, because "aerobic exercise benefits last about 36 hours. Exercising for 30 minutes a day has more benefit than exercising two hours twice a week, because if you exercise two hours twice a week, the benefits wear off after 36 hours. If you exercise half an hour a day, it lasts all week."
Dr. Einfalt also urges her patients not to get discouraged if they don't lose weight right away, and says proper diet to complement exercise is very important.
"Men, compared with women, have a tendency to lose weight right away by exercise alone," she says.
If you start to lose weight by walking but then reach a plateau, she recommends varying the rate and pace of walking: speeding up at times, walking up hills or even carrying light weights such as bottles of water.
"A walk that is not quite a run actually burns up more calories than jogging, and it's easier on the knees," she says.
Dr. Einfalt says once you start exercising regularly, you feel better after three weeks and after six weeks, it becomes a habit.
"And if you feel good, you want to keep doing it," she says.
Related Posts
Comments
About the Author
health enews staff is a group of experienced writers from our Advocate Aurora Health sites, which also includes freelance or intern writers.