Avoiding the workplace funk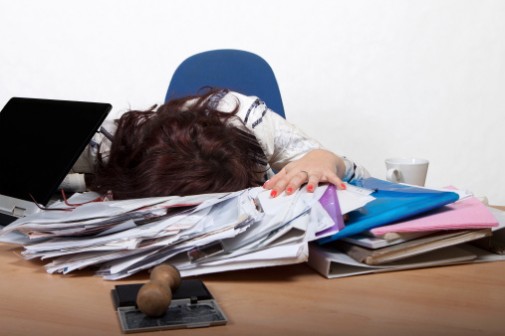 Working in a funk can lead to loss of productivity or motivation. That's why researchers recently looked at how the workplace itself can intervene and prevent the onset of depression in employees.
The report, published in BMC Medicine, indicates that companies offering mental health programs can reduce the level of depressive symptoms among employees. The study examined nine controlled trials, including a mix of cognitive behavioral therapy, mental health literacy, increased physical activity and team participation. When compared to a control group, study results demonstrated a positive effect in preventing depression when proactive steps are taken.
"Previously, it had been assumed that mental health interventions will only help those who are already suffering from significant symptoms. Here, we have shown that a range of relatively simple programs can reduce the level of depression symptoms across an entire workforce. This provides evidence that workplaces can be proactive, rather than reactive, when considering workers' mental health," said study researcher, Dr. Samuel Harvey, to OnMedica. 
According to the Centers for Disease and Control (CDC), patients with depression miss an average of 4.8 workdays and suffer 11.5 days of reduced productivity in a three-month time period. 
Dr. Harold McGrath, chair of the department of psychiatry and substance abuse services at Advocate Christ Medical Center in Oak Lawn, Illinois, agrees with the study and says preventive mental health programs provide benefits to both the employee and employer. 
Financial institutions, for example, have been known to implement tactics to those analyzed in the study to ensure their employees are making sound decisions on behalf of the bank and its customers. 
Dr. McGrath explains how employers can take small steps to prevent employee depression without a mental health program. 
"Company leadership should engage in supporting their workers by showing appreciation and satisfaction for their employees' efforts," he says. "Workers feel emotionally reimbursed when their work is recognized and appreciated and, ultimately, they feel fulfilled." 
In addition to companies making best efforts to keep the workspace happy and healthy, employees also should take responsibility for their happiness. Dr. McGrath recommends the following steps to maintain a positive work environment and stave off depression: 
1)    Routine: Follow a routine by eating healthy, regularly exercising and sleeping well.
2)    Outdoors: Sunlight has a very positive affect on mood, so take breaks to expose yourself to natural sunlight.
3)    Self-gratitude: Seek satisfaction or gratitude from your work, so that your labor becomes a reward to yourself.
4)    Support system: Build a social support system with your colleagues. If you have a sense that the people around you are supportive and caring, your work environment will be more positive.
Related Posts
Comments
About the Author
Julie Nakis, health enews contributor, is manager of public affairs at Advocate Children's Hospital. She earned her BA in communications from the University of Iowa – Go Hawkeyes! In her free time, she enjoys spending time with friends and family, exploring the city and cheering on the Chicago Cubs and Blackhawks.