15 states now affected by E. coli outbreak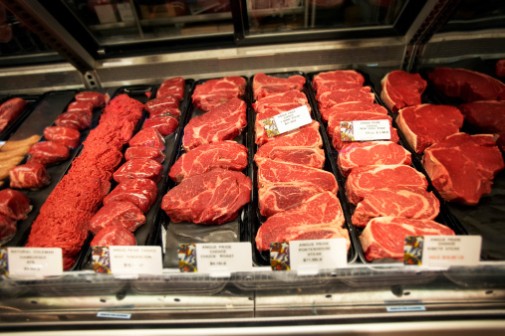 The United States Department of Agriculture's Food and Safety and Inspection Service recently announced that products in stores across 15 states may be infected with E. coli, including Illinois. About 1.8 million pounds of beef are being examined and removed from marketplaces because of the likelihood of contamination.
Consumers who have bought meat with production dates between March 31 and April 18, 2014 should return or throw out the meat. Consumers are also being told to look for the code: EST.2574B on meat packaging.
There are 11 people so far who have been sickened from contaminated meat from restaurants. The source is said to come from Wolverine Packing Company in Detroit, Michigan, according to published reports.
Another recall has been under way, as E. coli infected raw clover sprouts have infected nearly 10 people. Although the state departments of health in Washington and Idaho are telling consumers not to eat the raw sprouts produced by Evergreen Fresh Sprouts, hummus and other dip products are being recalled as well. About 14,900 pounds of dips have been taken off shelves in caution to the infections.
The Centers for Disease Control and Prevention (CDC) says that E. coli is bacteria found in the intestines of humans and animals. Although it is normal to contain some E. coli as a healthy intestinal function, some can cause illness, according to the CDC. When the E. coli are pathogenic, it means that they can cause illness with such symptoms as diarrhea, sickness outside of the intestinal tract, and other serious illnesses that can lead to hospitalization.
The CDC says illness can occur from contaminated water or food, or contact with infected animals or people. Symptoms appear three to four days after consuming the contaminated product.
You can prevent some food-borne illnesses by thoroughly washing hands during and after handling food, and also by cooking meat all the way through, according to health experts.
Stacie Shultz, pediatric dietitian at Advocate Children's Hospital in Oak Lawn, Illinois, suggests that you never use the same utensils or containers for raw and cooked meats, store meat in a chilled cooler before cooking to the right temperature until juices run clear, and to be more aware of cross-contamination.
Related Posts
Comments
About the Author
health enews staff is a group of experienced writers from our Advocate Aurora Health sites, which also includes freelance or intern writers.