Despite cancer battle, golfer keeps his swing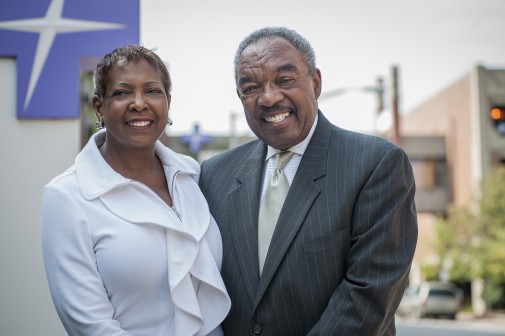 In May 2012, Larry Meades noticed he was having headaches and balance issues. He said his coordination was "off." 
When the headaches didn't get better, Dr. David Wechter, Larry's primary care physician with Advocate Medical Group in Chicago, recommended a brain scan. 
"We met with Dr. Wechter within an hour of the scan," Larry's wife, Diane, recalls. "He told us to go right over to the emergency department at Advocate Illinois Masonic (Medical Center)." 
She said the initial brain scans showed there were two tumors at the base of Larry's brain. He was immediately admitted to the hospital and given medication to reduce the swelling. 
"Everyone…immediately recognized what they should do," Diane says. "Within the afternoon, Dr. (Kenji) Muro, Dr. (Santosh) Yajnik and Dr. (Sangeetha) Nimmagadda had all come in to consult." 
A full body CT scan revealed the source of the brain tumors to be a tumor on his lung. And a biopsy indicated the lung tumor originated from colon cancer. 
Larry had been treated for colon cancer four years before with a bowel resection and every follow-up procedure and blood test had showed no sign of cancer, including the testing three months before the headaches began. 
"Personally, I was angry," Larry says. "How can this have happened? We'd done everything right. We have a healthy lifestyle—we cook for ourselves, we don't eat processed foods, we exercise. How was this was possible?" 
"It was an 'oh no' situation," he says. "I was terrified when told I may only have eight to 14 months. We sat there in the doctor's office and said, 'We're not going to give in to this.' Dr. Nimmagadda said with that attitude, they were going to do all they could. We stayed positive throughout. And everyone walked the walk with us." 
"We were definitely angry—and scared," Diane says. "The first thing we did was pull together circle of prayer warriors. We could feel their energy every day throughout this ordeal. You have to have spiritual support at times like that." 
Treatment for the brain tumors began the week of the diagnosis. Larry underwent minimally invasive stereotactic radiosurgery (SRS), an outpatient radiation procedure that targets brain tumors to precisely deliver a large radiation dose in a single session. A month later, the tumors showed a definite reduction in size and swelling. Dr. Yajnik and his team were thrilled about his response to treatment. 
"Mr. Meades received radiosurgery to these two cerebellar brain lesions during a single outpatient procedure," Dr. Yaknik says. "He tolerated the treatment very well, and both these lesions have remained well controlled." 
Dr. Nimmagadda then prescribed a regimen of three continuous days of chemo. Two hours in the Medical Center's Infusion Center and then home with an injection pump that was removed by a home health provider. 
"We had our treatment regimen scheduled so I could play golf on Saturday," Larry says. "We wanted to maintain as normal a lifestyle as possible." 
Larry responded well to chemotherapy. The routine scans showed the brain tumors and lung tumor reduced in size. There was no detectible cancer anywhere else. 
So in November 2012, a CyberKnife treatment was recommended for the lung tumor. This treatment was provided at Advocate Lutheran General Hospital in Park Ridge, Illinois. This meant five days of targeted radiation delivered directly to the tumor, much like his previous SRS treatment. 
In January 2013, after the final chemotherapy treatments, the routine scans showed the brain tumors hardly visible, the lung tumor reduced to a scar and no new cancer detectible. When they returned from a golf vacation in April, a routine scan showed the lung tumor had doubled in size and surgery was recommended. 
When the tumor was removed in June, Diane said she and Larry were relieved to hear the tumor was benign. "Benign—the most beautiful word in the English language," she says. 
Now 75, Larry continues to enjoy life and family. Last fall, Larry and Diane were back out on the golf course, as well as exercising and swimming in a local pool. 
"I'm able to move around well," he says. "I don't have any excruciating pain. I'm able to do anything I want to do." 
"Between the care we got and the friends we have, we stayed positive along the way," Larry says. "And now I'm doing better and am glad to be through it. I'm looking forward to volunteering, counseling others who are going through cancer and more golf trips."
Related Posts
Comments
About the Author
health enews staff is a group of experienced writers from our Advocate Aurora Health sites, which also includes freelance or intern writers.