5 reasons to stay active as you age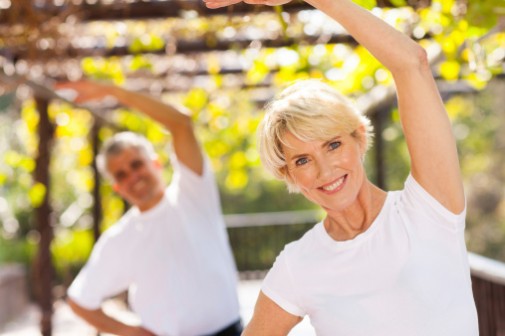 How much energy, endurance, power and flexibility do you have in a given day? Chances are you aren't where you'd like to be. But staying fit matters, and not just in the short term. It's essential to a healthy life as your body works its way through the aging process. 
You should, of course, talk with your doctor about an exercise plan before you begin one or make big alterations to your existing one. 
Why stay fit? Here are a handful of reasons straight from Dr. Brian Chudik, family medicine physician with Advocate Medical Group in Algonquin, Ill. 
Increase bone density and limits osteoporosis
According to the National Osteoporosis Foundation, osteoporosis affects more than 10 million men and women while an additional 34 million Americans have low bone mass, putting them at risk for developing osteoporosis.

"The disease makes your bones weak and brittle," Dr. Chudik says. "And exercise increases bone strength. The best kinds of exercise to make bones stronger are weight-bearing exercises like walking and resistance exercises such as lifting weights. But you don't need to become a competitive walker or body builder. Just living an active lifestyle will help your bones stay strong." You also need vitamin D and calcium for good bone health, he says.

Stay Independent
"The point of being active is to maintain your ability to function," Dr. Chudik explains. "Studies show that people who exercise over their lifetimes can avoid being disabled at the end of their lives. Those who don't exercise, if they live long enough, are sure to experience disability." 
Increase metabolism
Metabolism measures how your body handles and uses nutrients. Strength training increases muscle mass, which raises metabolism. "One benefit is that your body uses more of the calories you take in because your resting metabolic rate increases," Dr. Chudik says. "That leads to less body fat and makes it easier to control your weight. Just being a few pounds overweight puts you at high risk for many health problems."
Reduce the risk of falls
According to Dr. Chudik, exercise lets you practice keeping your balance and reacting to things around you. It also helps to reduce a natural decline in muscle fitness. 
Improve your mood
"Exercise is good for your mind; studies show it reduces depression," he says. "On top of that, it can boost your self-esteem. Being physically active can help improve your sense of what you can do."
Looking for more ways to stay healthy as you age? Watch our next AdvocateLive webcast "Aging Well: Living Your #HealthiestLife" on Friday, June 20 at 11:30 a.m. Submit your questions now: advocatehealth.com/live.
 Need to find a physician? Click here to choose from over 1,000 top docs.
Related Posts
Comments
About the Author
health enews staff is a group of experienced writers from our Advocate Aurora Health sites, which also includes freelance or intern writers.