Questioning gun ownership for older adults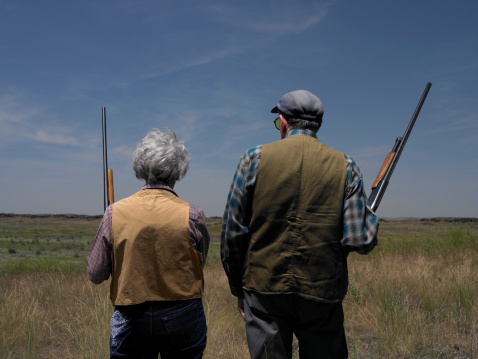 Gun violence is all around us across the U.S. and is generally associated with gangs and young people committing the crimes. Now new research sheds light on gun ownership in the elderly.
The study, published in the Journal of the American Geriatrics Society, takes a look at how older adults owning guns can create danger to those around them. With more than 5 million people living with dementia and/or Alzheimer's, according to the Alzheimer's Association, and a high occurrence of depression and suicide in the 65 and older population, researchers believe this issue needs more attention.
Lead researcher of the study, Dr. Ellen Pinholt, brings the issue to the forefront by providing questions for caregivers and physicians to ask in these situations.
"Whereas there are well-accepted guidelines for the assessment and counseling of older drivers, there is little to help guide clinicians in their discussions with older gun owners," said Dr. Pinholt and authors in the study release.
Dr. Pinholt suggests the following questions be asked habitually for older adults ages 65 and up who own a gun:
If there is a gun present, is it locked?
Is it loaded?
Are little children present?
Does the gun owner feel low?
Is the gun owner learned?
Dr. Pinholt refers to these as the Five "L's" – Locked, Loaded, Little Children, Low and Learned. She says, in a news release, that these are especially important to ask when speaking with an older adult who has depression or another mental disorder or who has kids present in the home. The authors advise that if a gun needs to be removed from a home, to ensure the appropriate people are available to help, that may include caregivers, family or police.
Authors hope to raise awareness on the issue to potentially avoid any harmful situations.
"Gun violence is a serious issue for any age when it comes to proper handling and safety," says Dr. Stephen Crouch, emergency medicine physician with Advocate Good Samaritan Hospital in Downers Grove, Ill. "But with the elderly population it oftentimes goes unnoticed. We all need to be proactive to ensure that those who own guns are as safe as possible."
"'Is there a gun in the home?' is a legal and relevant question during a home visit and pertains to the safety of the patient, family members and home health worker," authors said in the article published with the study. "Make the inquiry as automatic as asking about driving when interviewing individuals with dementia or their families.
Related Posts
Comments
About the Author
Sarah Scroggins, health enews contributor, is the director of social media at Advocate Aurora Health. She has a BA and MA in Communications. When not on social media, she loves reading a good book (or audiobook), watching the latest Netflix series and teaching a college night class.