Routine colonoscopy finds and stops life-threatening tumor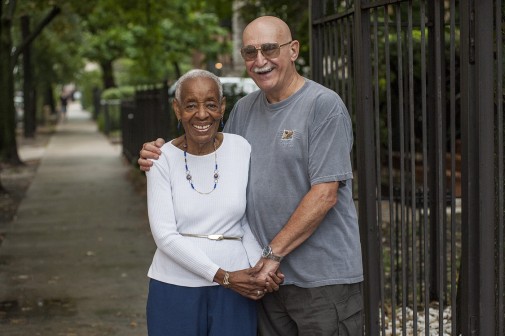 In February 2013, Bella Perlman, 83, underwent a routine colonoscopy. For the first time, the test showed polyps in her colon, an indication of possible colon cancer if left untreated.
She also told her primary care physician, Dr. David Scheiner, that she was seeing blackness in her bowels, with tests showing low blood counts—together an indication of bleeding somewhere in the intestines. However, Perlman admits her busy social obligations kept her from pursuing follow-up care until the next week.
After a visit to the emergency department at Advocate Illinois Masonic Medical Center in Chicago and admission to the hospital, doctors looked in her stomach and the first part of the intestine with a camera and an endoscopic ultrasound. They discovered a tumor "the size of a fist" in Bella's abdomen as the source for her bleeding.
"Even at that point, I wasn't really concerned," Perlman says. "I'm not the kind of person who lets things get to me. I trusted my doctors and tried to take things as they came."
Her husband, Noel, says he didn't have the same care-free outlook.
"Bella always thinks for the best—I was very concerned," Noel says. "But we had every confidence in the medical team, so I tried to stay positive."
The good news was that the tumor had not spread. Though her biopsies were inconclusive, Dr. Ajay Maker, surgical oncologist with Illinois Masonic Medical Center, was concerned that this tumor was a GIST, or gastrointestinal stromal tumor, and that it was invading both the intestine and the pancreas. Because of her good physical condition, Dr. Maker performed a special operation called the Whipple procedure to remove the tumor.
Interestingly, he discovered several anomalies, Perlman says.
"It turns out that my pancreas isn't shaped like a sausage, like it should be," she says. "It's round. And the blood vessels aren't as expected, which complicated things a bit. Dr. Maker had to improvise a bit."
"Bella is such a sweet and strong person. She exercised every day, which is why I wasn't surprised by how well she recovered, despite undergoing such a large surgery at her age," Dr. Maker says.
Following the surgery, Perlman says she recovered amazingly well. "The doctors say it was faster than patients half my age."
Noel says he was relieved and heartened to see Perlman recover so quickly. "I had been preparing for the worst, hoping that I would be able to care for her myself. But her recovery was incredible."
She says her only lingering health issue is a difficulty rising from a seated or prone position, but even that's getting better with time. She's back to exercising 30 minutes a day and building up her strength.
To celebrate, Perlman and Noel kept a promise to celebrate their 50th wedding anniversary with a road trip in mid-August to experience Richard Wagner's Der Ring des Nibelungen, or The Ring Cycle, a weeklong event in Seattle.
"It was something we've always wanted to do," she says. "And this was the perfect time to do it."
Dr. Maker and the Perlmans made a point of getting together a few months later.
"Seeing Bella and Noel together, enjoying the great passion they have for the opera and celebrating the evening with their friends was heartwarming," Dr. Maker says. "I'm so happy that this is behind her and that she is flourishing."
Related Posts
Comments
About the Author
health enews staff is a group of experienced writers from our Advocate Health Care and Aurora Health Care sites, which also includes freelance or intern writers.