How to reduce baby allergy risks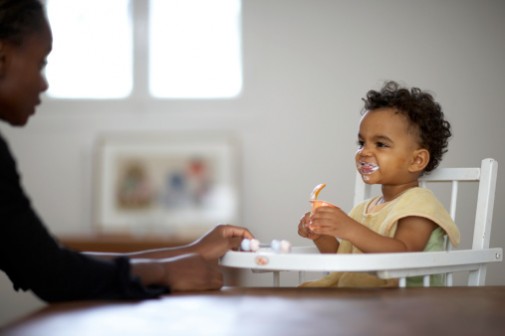 In recent years, food allergies have been on the rise among U.S. children. While the reason is not clear, you may be able to reduce your child's risk when they are still a baby.
According to a new study, waiting until 17 weeks to introduce babies to solid food, while simultaneously breastfeeding, may help reduce the risk of childhood food allergies. Researchers theorized that the combination of starting solid foods while breastfeeding is a key in educating the immune system that food is safe.
The study, published in the journal Pediatrics, analyzed 1,140 babies from birth to 2-years-old. In that time, mothers documented the babies' diets, including when they began introducing solid foods and any possible allergic reactions. Researchers determined that 41 babies had food allergies and then compared them with a control group without food allergies.
Study leaders discovered a couple significant trends among the babies with food allergies. First, many of the babies were introduced to solid foods earlier than 17 weeks. Additionally, they were less likely to be breastfed while being introduced to cow's milk and other types of solid foods.
"We are seeing that instances of food allergies are increasing in the U.S.," says Dr. Amiinah Kung, a pediatric allergist on the medical staff at Advocate Sherman Hospital in Elgin, Ill. "Introducing solid foods after four to six months of breastfeeding is a crucial timeframe. There is a window of time when the immune system is still developing. Breast milk has protective benefits that help to increase an infant's tolerance to solid food."
Dr. Kung also recommends that babies are introduced to commonly allergenic foods after four to six months (while breastfeeding continues) to reduce the risk of food allergies. The most common allergenic foods in the U.S. include cow's milk, eggs, wheat, peanuts and tree nuts. "Compared to avoiding these allergenic foods altogether, there is benefit in introducing these foods early on during this crucial time window to lower the risk of food allergies," Dr. Kung says.
If possible, new moms should consider breastfeeding exclusively up to 17 weeks, Dr. Kung recommends. Once solid food is introduced, breastfeeding should continue anywhere from six months to two years.
The American Academy of Pediatrics also recommends that breastfeeding should continue for one year or longer after introducing babies to solid food. For mothers who don't make enough breast milk and need to supplement, Dr. Kung acknowledges that any amount of breast milk is beneficial for baby.
"Breastfeeding introduces components of the maternal immune system that essentially protect the baby," Kung says. "The bottom line is that breast milk is incredibly beneficial."
Related Posts
Comments
About the Author
health enews staff is a group of experienced writers from our Advocate Aurora Health sites, which also includes freelance or intern writers.