Standing at meetings may improve creativity, teamwork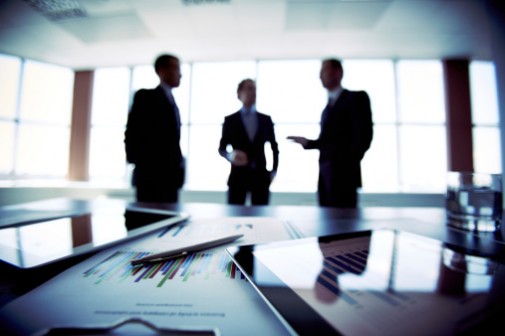 The next time you're shifting in your seat during a long meeting, thinking it might be nice to stand and stretch your legs, some new research suggests you might be onto something.
According to researchers from Washington University in St. Louis, people who stand during meetings are more creative, have more excitement and are less likely to be territorial than their sitting counterparts. The study, published this week in the journal Social Psychological and Personality Science, suggests organizations should design work spaces and meeting rooms around more active, participatory meetings by removing chairs and other furniture and allowing meeting participants the opportunity to stand and move.
"Our study shows that even a small tweak to a physical space can alter how people work with one another," says study co-author Andrew Knight, PhD, assistant professor of organizational behavior at the university's Olin Business School, in a press release. "Markus (Baer, PhD, study co-author and associate professor of organizational behavior at Olin) and I were particularly interested in the role of a sedentary workspace, because standing desks were a new option that was available to faculty members for outfitting their offices," Knight says. "We wondered how this type of arrangement would play out for people working together in a group to achieve a collective goal."
In the study, participants worked together in teams for 30 minutes working on a creative task—producing a recruitment video for the university. Some teams worked in chairs, others stood. Participants wore wrist sensors that measured their physiological response to excitement, which measured the amount of sweat around their hands and feet.
In the end, the videos were evaluated for quality, while teams reported out on their group process.  And the researchers found the teams who stood had greater measures excitement and were less territorial about ideas than those seated, as members of the standing groups reported their team to be members less protective of their ideas.
"Seeing that the physical space in which a group works can alter how people think about their work and how they relate with one another was very exciting," Knight said.
"It's well known that a person's posture influences behavior," says Dr. Michael Aisenberg with the Behavioral Health Services team at Advocate Illinois Masonic Medical Center in Chicago. "Previous studies have shown that going for a walk helps to increase creativity. It's not surprising that novel physical changes to the environment, requiring movement, would also stimulate new and creative interactions."
Employees can spend much of their day going from meeting to meeting, Dr. Aisenberg says, so being up and active, at least for some meetings, may help keep energy creativity flowing.
Related Posts
Comments
About the Author
health enews staff is a group of experienced writers from our Advocate Aurora Health sites, which also includes freelance or intern writers.