What is Dad's role when it's time for baby to arrive?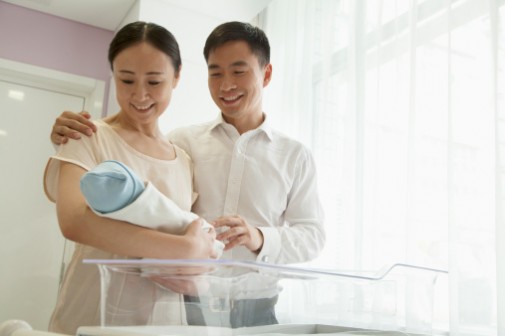 There was a time when expectant fathers sat in the waiting room and handed out cigars. Times have changed.
Now men are viewed as important coaches in labor and delivery and play a huge role in supporting expectant moms throughout the delivery process.
"Men, about to be dads, play a critical role in ensuring that all goes well the day the baby decides to arrive," says Dr. Robert Koss,obstetrician and gynecologist at Advocate Lutheran General Hospital in Park Ridge, Ill. " I appreciate expectant fathers who understand the plan, are encouraging to their significant others and take control in the delivery room. The experience of those two parents can be quite different than the ones who have not adequately prepared for what is about to happen."
Here is what experts say is the role dad can play before and during the delivery.
Prepare early; it's your job to make sure the bags are packed and everything is ready to go at the time of delivery.
Know how to reach the doctor and complete the paperwork;  you should have the doctor's phone number to call on your way to the hospital and once you arrive, handle all of the paperwork
Present your birth plan; make sure you have the birth plan packed and present it to your caregivers
Encourage and support your significant other; there will be lots of people coming and going throughout the birthing process, you are the expectant mom's main support. Build her confidence, tell her you love her and are proud of her for having your baby.
Listen to her, manage communications and handle tough decisions; take control of communications with doctors and caregivers; get answers to all of the expectant moms' questions and handle any difficult decisions.
Handle the relatives and friends; you know who you want at the hospital and in the delivery room; make sure you control guests.
Be flexible and give her what she wants; just do what she asks, even if you don't think it's important; things can change rapidly, just go along with it.
Take the heat; during labor expectant moms can get frustrated; let her take it out on you.
"What happens in the delivery room can stay in the delivery room," Dr. Koss says. "Once the newborn is in his or her parents' arms, all the tension, frustration and fear is gone, like magic."
Related Posts
Comments
About the Author
Evonne Woloshyn, health enews contributor, is director of public affairs at Advocate Children's Hospital. Evonne began her career as an anchor and reporter in broadcast news. Over the past 20 years, she has worked in health care marketing in both Ohio and Illinois. Evonne loves to travel, spend time with family and is an avid Pittsburgh Steelers fan!