So now video games can be good for kids?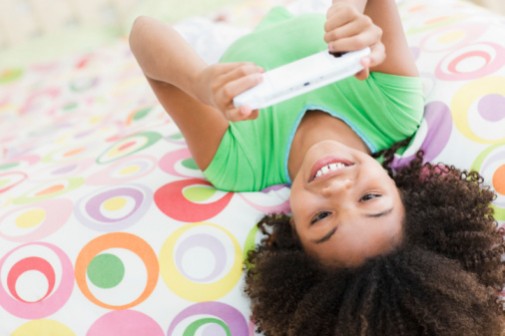 There's Xbox, PlayStation, Wii and even sophisticated games for computers, tablets and smartphones. In an increasingly electronic age, many parents struggle with just how much time their children should be spending at the video game screen.
According to a new study released this week, video games may just be good for kids, though only in small doses.
The study, conducted by researchers at the University of Oxford among children in the United Kingdom, found that a little gaming—less than an hour a day—helps children feel better adjusted and be more satisfied with their lives. They appear to have fewer emotional problems and less hyperactivity.
However, the researchers found the opposite effect for children who play for more than three hours a day. They found these children miss out on other social activities, leading to less social adjustment and empathy among their peers, as well as exposure to inappropriately adult content.
The study, published in the journal Pediatrics, surveyed nearly 5,000 U.K. children, half male and half female, all between the ages of 10 and 15. The children reported on the amount of time they spent playing video games each day and answered a series of questions to measure their satisfaction, empathy and social adjustment.
"These results support recent laboratory based experiments that have identified the downsides to playing electronic games," Dr. Andrew Przybylski of the Oxford Internet Institute, an author of the study, says in a statement. "However, high levels of video game playing appear to be only weakly linked to children's behavioral problems in the real world."
Dr. Przybylski stresses the small, positive effects the researchers observed for shorter sessions of play do not support the idea that video games, on their own, help children socially develop in an increasingly digital world.
"Some of the positive effects identified in past gaming research were mirrored in these data but the effects were quite small, suggesting that any benefits may be limited to a narrow range of action games."
Dr. Laura Mulford, pediatric clinical psychologist with the Pediatric Developmental Center at Advocate Illinois Masonic Medical Center in Chicago, says the general findings make sense and follow her typical instructions to her patients' parents.
"The American Academy of Pediatrics suggests establishing limited screen time and screen-free zones for kids in the home, so there's time and space for engaging with each other instead of a computer or TV screen," Dr. Mulford says. "It's especially important for kids with autism to provide some structured social activities."
There are positive experiences for children with autism in which video modeling is used to encourage social interaction, she says. However, for general video gaming, Dr. Mulford says more research is needed to study more closely the specific features of video games that may make them either beneficial or harmful.
Related Posts
Comments
About the Author
health enews staff is a group of experienced writers from our Advocate Aurora Health sites, which also includes freelance or intern writers.