Why aren't people using their vacation time?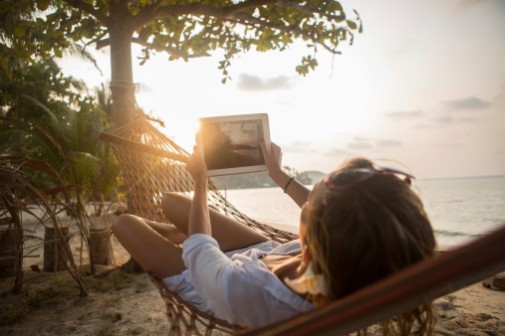 Do you have a large paid time off bank that is capped off and just filling up week after week? Well you are not alone. According to a recent survey from the U.S. Travel Association and market research company, GfK, nearly 40 percent of Americans won't use all of their vacation time this year.
The research found that there were multiple reasons people chose to not use their vacation time, including: anxiety of being replaced, too much work and a deficiency in company support.
The survey entitled, "Overwhelmed America: Why don't we use our paid time off?" looked at how Americans are surrendering their own health and wellness and giving in to the "work martyr complex." The survey included more than 1,300 workers in the U.S., who are in full-time positions with approximately 235 of them serving in management roles.
"Americans suffer from a work martyr complex. In part, it's because 'busyness' is something we wear as a badge of honor. But it's also because we're emerging from a tough economy and many feel less secure in their jobs," said Roger Dow, president and CEO of the U.S. Travel Association, in a press release. "Unfortunately, workers do not seem to realize that forfeiting their vacation time comes at the expense of their overall health, well-being and relationships."
Results showed that about 40 percent of people feared coming back to an overwhelming amount of work; while 35 percent said no one else can actually do their job while away; 33 percent said they don't have the funds to use their time off; and 22 percent said they do not want to be perceived as a disposable employee.
One misconception for many workers was that the employer did not communicate the significance of using vacation time. Sixty-seven percent said their employer either doesn't communicate this at all, discourages paid time off use or distributes varied communications.
Survey results also found that nearly 33 percent of leaders from companies either don't talk about it or very rarely bring up the discussion on paid time off. Study leaders believe this inadvertently gives the wrong message to employees.
Another interesting outcome showed that 46 percent of workers still respond to emails while out and 29 percent are making calls. Only 37 percent of senior leaders said they actually completely unplugged from their job in comparison to 74 percent of non-management workers.
GfK's vice president of research, Chris Moessner, said in the press release that, "while the survey revealed a number of barriers to taking time off, it may have also uncovered the silver bullet." Moessner is referring to the 'Use it or Lose it' policy.
This policy may be one of the strongest encouragers for employees to use their time off, the study revealed. Nearly 84 percent of workers whose companies have this policy in place are planning to use their paid time off this year. For those who can roll over their paid time off to the next year or cash out their time, 48 percent said they won't use all their time off.
Dow said that, "Companies and employees need to recognize the value of getting away from the office.  It's time to start a conversation and reclaim the benefits we work so hard to earn."
Related Posts
Comments
About the Author
Sarah Scroggins, health enews contributor, is the director of social media at Advocate Aurora Health. She has a BA and MA in Communications. When not on social media, she loves reading a good book (or audiobook), watching the latest Netflix series and teaching a college night class.