Teens who skip on sleep prone to weight gain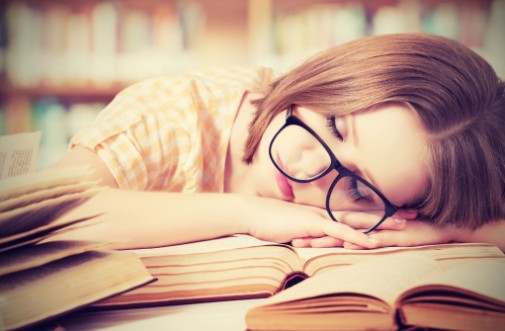 Teens who get less than six hours of sleep per night are at risk of becoming obese in their 20s, says new research.
Study leaders at the Mailman School of Public Health at Columbia University and the University of North Carolina Gillings School of Public Health, say their findings provide the strongest evidence for a link between sleeplessness and weight gain among teenagers. The report is published in the Journal of Pediatrics.
"Lack of sleep in your teenage years can stack the deck against you for obesity later in life," said study leader Shakira F. Suglia, ScD, in a news release. "Once you're an obese adult, it is much harder to lose weight and keep it off. And the longer you are obese, the greater your risks for health problems like heart disease, diabetes, and cancer."
The study looked at more than 10,000 young Americans ages 16 – 21 and compared their weight and height against the number of hours of sleep.
One of every five 16-year-olds reported getting less than six hours of sleep. Those kids were 20 percent more likely to become obese by the time they turned 21. Researchers said sedentary lifestyles reported contributed to obesity but "did not account for the relationship between sleeplessness and obesity."
According to the American Heart Association, nearly one in three U.S. children and teens are now overweight or obese—nearly triple the rate in 1963. Obesity in children can lead to complications that are not usually seen until adulthood: high blood pressure, Type 2 diabetes and elevated blood cholesterol levels.
According to Dr. Boguslaw Bonczak, family medicine physician with Advocate Medical Group in Elgin, Illinois, lack of sleep on its own is not a cause of obesity. Rather, it is the unhealthy behaviors associated with sleep deprivation.
"These behaviors include sedentary activities like watching television, playing video games and snacking on junk food," Dr. Bonczak explains. "It's mainly the unhealthy behaviors children are doing in place of sleeping that is causing an association between lack of sleep and obesity."
Dr. Bonczak's advice for parents is to create a consistent routine in the evening that includes a specific time for dinner as a family, television/computer time and bedtime. Also, he recommends keeping television, computers and other forms of technology, such as iPads and iPhones, outside of the bedroom to ensure your kids aren't staying up late.
Related Posts
Comments
About the Author
health enews staff is a group of experienced writers from our Advocate Aurora Health sites, which also includes freelance or intern writers.