7 ways employees can get over work mistakes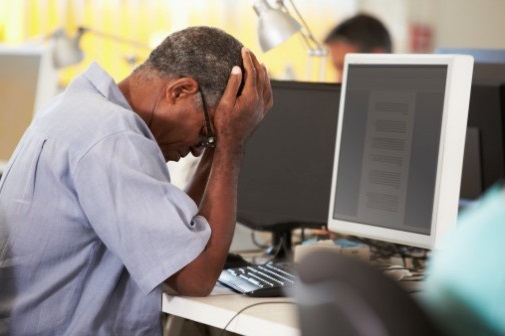 How well workers are able to move beyond their past can help determine how healthy their future may be. Research from a new study suggests that employees who seem stuck on past mistakes experience difficulties with work, stress and interaction with others.
In a survey of more than 600 workers from both blue- and white-collar professions, researchers classified 20 percent of those surveryed as "ruminators," and 40 percent were labeled as "forward thinkers." Results of the study were published in July in the journal Organizational Behavior and Human Decision Processes.
Researchers found the ruminators reported the following experiences:
Twenty-five percent worked less proactively.
Thirty percent experienced higher job stress levels.
Thirty-five percent had strained co-worker relations more often.
Forty percent experienced greater sleep difficulties/disruptions.
Fifty percent felt depressed moods such as sadness or isolation at higher levels.
Kevin Krippner, licensed clinical psychologist with Advocate Medical Group in Normal, Ill., says for those who tend to ruminate, how they manage their responses to errors can make all the difference. Krippner suggests using the following techniques:
Focus on successes or positive things you do, rather than the negative.
Recognize that mistakes are only a small portion of the good you have done for your organization.
Understand that everyone makes mistakes and that you are not alone.
Ask yourself what you learned from this situation that will help you improve your performance in the future.
Acknowledge the mistake, but then move on and focus on doing a better job today and in the future.
Those who ruminate may also reduce worrying through distraction, says Krippner. He says think about something else when you catch yourself thinking about the mistake. "If you can distract yourself for a few minutes before thinking again about the negative thing again, then as soon as the mistake re-enters your mind, distract yourself again. Keep doing this," says Krippner.
He adds that the most important thing is to reframe what happened. "Reframing is simply thinking about the event in a different way," Krippner explains. "This does not mean lying to yourself. Instead of thinking about the event in a negative way, think about it in a more positive, neutral or accurate way," he says.
In addition to improving how you manage your responses, Krippner recommends finding ways to minimize your stress all around. "Stress can impact health in very significant ways so improving our self-care can go a long way to improving our lives. This includes eating better, getting enough sleep, exercising on a regular basis and doing some fun things regularly as well," he says.
Related Posts
Comments
About the Author
health enews staff is a group of experienced writers from our Advocate Aurora Health sites, which also includes freelance or intern writers.