5 signs it's time to see a doctor about pain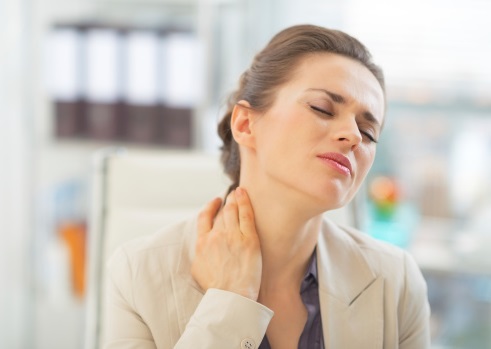 A difficult person might be a "pain in the neck." A tough chore might be "a real pain." But when does real pain become such an issue that it's time to talk to your doctor?
According to Dr. Deepti Agarwal, anesthesiologist and pain management specialist at Advocate Illinois Masonic Medical Center in Chicago, there are five important signs that it might be time to call your doctor about your pain:
Won't back down: Aches and pains are normal for those who may be active. Muscle and joint strains are part of the body's messages that we've overdone it, but they don't often require medical attention. Though throbbing pain may take up to several weeks to resolve naturally, there are actions that can be taken to lessen the pain, including applying cold or heat, stretching, popping a few over-the-counter anti-inflammatory drugs (including aspirin or ibuprofen) and simple rest."Most pain usually goes away in a few weeks," Dr. Agarwal says. "But if your back or neck pain persists or intensifies instead of lessening, you should call your doctor." 
That tingling sensation: Throbbing or stabbing pain is normal and often controllable. But pain accompanied by tingling, numbness or weakness in the legs, arms or hands should be checked by a doctor."Tingling or numbness can be a sign of nerve damage sustained in traumatic injury or repetitive stress injury," she says. "It's definitely a sign you want to check with your doctor to lessen the risk of any permanent damage." 
Awake in the night: If your pain is not only keeping you awake at night but actually waking you from sleep, it's time to call your doctor."Rest is a key to pain treatment," Dr. Agarwal says. "Our bodies need sleep to rejuvenate and heal. If your pain is bad enough that it's interrupting that natural process, it may be a sign of a more serious problem."
It adds up: Pain that gets more severe and limits your normal, day-to-day activities can also be a sign of a larger issue."Back or neck pain is usually self-limiting," she says. "But pain that gets worse over a period of time or is keeping you from doing things you typically enjoy—like gardening, playing a sport or playing with your children—needs to be addressed."
Gotta go: One of the biggest signs that your pain may be more serious than you think is something most people don't want to admit to—incontinence."Most people don't think of it, but having back pain with incontinence and progressive weakness or loss of sensation in the legs is a sign that something could be seriously wrong," Dr. Agarwal says. "It can be a symptom of serious damage to the spine and should be addressed as a medical emergency."
Pain is the body's way of telling us something is wrong and will often subside and disappear with rest and attention. Dr. Agarwal recommends avoiding strenuous activity if you feel back or neck pain until you feel better.
"The last thing you want to do is make anything worse by overdoing it. And if you're not sure, call your doctor. They can help determine if you need immediate medical attention, such as a referral to a pain specialist."
Related Posts
Comments
About the Author
health enews staff is a group of experienced writers from our Advocate Aurora Health sites, which also includes freelance or intern writers.