AHA takes a stand on e-cigarettes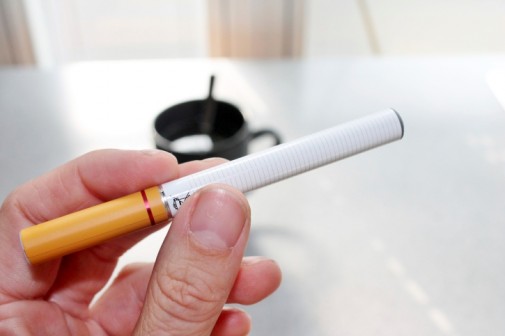 The American Heart Association has officially expanded its stance against smoking and tobacco use to the growing e-cigarette industry, releasing a policy statement this week calling for stricter regulation and more study of the tobacco-free devices.
The statement, based on a current study and published in the organization's journal Circulation, takes the position that e-cigarettes contain nicotine and are, therefore, a tobacco product and should be regulated as such. Regulation should be put into place to prevent assess, sales and marketing to youth and call for more study on the long-term effects of the product, the authors say.
"E-cigarettes have caused a major shift in the tobacco-control landscape," says Dr. Aruni Bhatnagar, the statement's lead author and chair of cardiovascular medicine at the University of Louisville, in a statement. "It's critical that we rigorously examine the long-term impact of this new technology on public health, cardiovascular disease and stroke, and pay careful attention to the effect of e-cigarettes on adolescents."
The authors recommend a federal ban, in support of proposed FDA regulations, on sales of e-cigarettes to minors—just as with traditional tobacco products—saying sales to youth may become an entry point to life-long nicotine addiction. This ban should include the flavoring of e-cigarette products, they say, as well as the skyrocketing amount of advertising, often using celebrities, aimed at America's youth.
Additionally, the authors state that, while toxic substances in e-cigarette vapors are shown to be lower than that in tobacco-based cigarette smoke, non-smokers may still be exposed to nicotine in confined spaces, such as restaurants and bars. They say unregulated e-cigarette use could "turn back the clock to the days when smoking in public was normal behavior, undoing years of work on (state and local) smoke-free laws and hampering current enforcement."
In some cases, e-cigarettes may prove useful in transitioning some hardcore smokers to a tobacco-free life, the authors say, though only if other smoking cessation strategies fail and only with a plan to get off nicotine completely.
"Nicotine is a dangerous and highly addictive chemical no matter what form it takes—conventional cigarettes or some other tobacco product," says Dr. Elliott Antman, president of the American Heart Association. "Every life that has been lost to tobacco addiction could have been prevented. We must protect future generations from any potential smokescreens in the tobacco product landscape that will cause us to lose precious ground in the fight to make our nation 100 percent tobacco-free."
Dr. Lloyd Klein, cardiologist at Advocate Illinois Masonic Medical Center in Chicago, agrees with the association's concerns.
"The American Heart Association is coming at this from the standpoint that e-cigarettes are a drug delivery device, with the drug being nicotine," he says. "The devices are seen as cool and avant garde. They're afraid that, if they're not regulated, people with assume they must be safe."
Dr. Klein says the association is right for calling for full regulation of e-cigarettes.
"There's a right to be concerned that e-cigarettes will become and entrée to smoking rather than an exit," he says. "We know people aren't starting smoking in their 20s and 30s and 40s. They're starting at age 12 and 13. There's the definite potential that e-cigarettes will be seen as a readily available, cool way to start. It's easy to see how that may lead to something more serious, like real tobacco use."
Related Posts
Comments
About the Author
health enews staff is a group of experienced writers from our Advocate Aurora Health sites, which also includes freelance or intern writers.