Retrain teen sleeping habits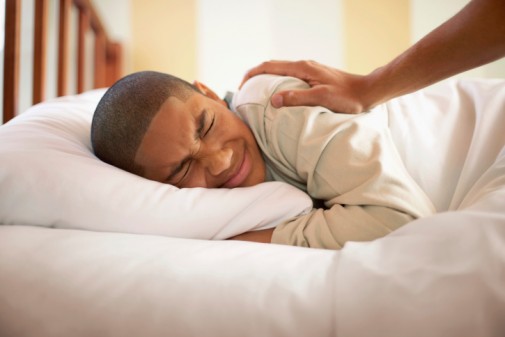 Students are back in school and part of getting back into their daily routines revolves around readjusting proper sleeping habits that may have been lost during the summer months.
The more relaxed summer sleeping patterns can have a negative impact inside and outside of the classroom," says Dr. Jill Kelly, pediatrician at Advocate Sherman Hospital in Elgin, Ill. Getting the most out of a student proves most difficult when they are staying up late, constantly using technology and often consuming caffeine to make up for drowsiness.
"It's a vicious cycle," Dr. Kelly says. "Lack of sleep doesn't just affect school performance, it heightens the risk for car accidents, and makes students more susceptible to things like obesity, depression and other disorders."
Fifty-nine percent of middle school and 87 percent of high school students are getting less than the recommended 8.5 to 9.5 hour of sleep on school nights, according to a recent poll by the National Sleep Foundation.
With an earlier wake-up time, homework, extracurricular activities and after-school jobs, parents need to enforce proper "sleep hygiene" with their children to combat sleep deprivation.
"You can talk to them about it and it may not make a huge difference, but if it is enforced, they will see positive results," Dr. Kelly says. "Teens get so used to doing something that the bad habits become hard to break. A better overall [sleep] cycle has to be created and enforced."
Besides getting to bed early, unplugging from social media, turning off the television and putting away the cell phone can also improve sleep habits.
Teens sleep significantly less when they use technology in the hour before bed, leading to fewer hours of sleep per week and more daytime sleepiness, according to the National Sleep Foundation. Texting and emailing after the lights are out, even once per week, dramatically increases daytime sleepiness among teens.
"Monitor the screen time and set some limits," Dr. Kelly says. "So many teens are staying up late and using different types of technology. Those things interrupt not only getting to sleep, but the quality of sleep they receive."
Common mistakes made by sleep-deprived teens are oversleeping on the weekends or using caffeine-based drinks to combat tiredness.
"That just continues the cycle of staying up late," Dr. Kelly says. "It doesn't fix the problem, and when the weekend is over, they fall right back into the same pattern. They need to be retrained."
Related Posts
Comments
About the Author
health enews staff is a group of experienced writers from our Advocate Aurora Health sites, which also includes freelance or intern writers.