Are we all living in our own bacteria bubble?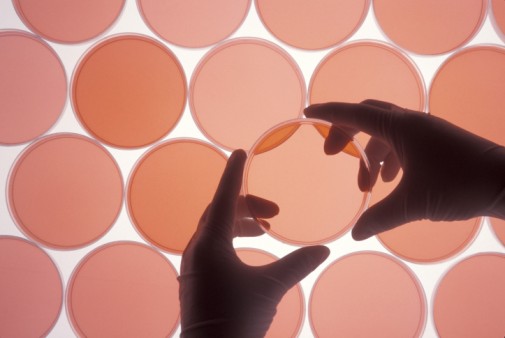 Bacteria. It's everywhere. Good and bad. From your fingers to your shoes to your smartphone to your doorknob. Now a new study takes a deeper look at the bacteria humans carry around with us every day.
The Human Microbiome Project, led by researchers Jack Gilbert, Daniel Smith and Jarrad Hampton-Marcell from Argonne National Laboratory in Lemont, Ill. and funded by the Alfred P. Sloan Foundation, used bacteria samples from different people and environments in order to get a better idea of what type of communities form and how.
The study takes a look at the human microbiome, which is the good bacteria that are living in and on the human body. Researchers examined seven families, including adults, kids and pets, collecting samples of microscopic bugs from the home and from their skin. This study stands out from the rest as it takes a look at healthy people rather than those who already sick, looking to discover how to possibly create healthier environments to prevent people from getting sick.
Researchers found that after studying several groups, they were actually able to tell where each group lives from their specific bacteria. The study looks to understand how our human microbiomes act together with bugs around us to impact our health.
"We have so little information about where the microbes come from that shape our microbiome, whether it's for health or disease," said Gilbert, a microbiologist at the Laboratory, in a statement.
From the day we are born, people pick up bacteria and carry it throughout their lives.
Dr. James Malow, infection control specialist at Advocate Illinois Masonic Medical Center in Chicago, finds this study to be very interesting.
"Each person has their own fingerprint," he says. "We have known for years that people carry their own bacteria, but this study points out the uniqueness of it."
Good bacteria is essential to our well-being, Dr. Malow says, it prevents the bad bacteria causing infection.
"There is no harm or concerns people should have in regard to this information," Dr. Malow says. "I hope it can lead to more discoveries on what some people may be pre-disposed to."
Researchers determined that bacteria found in the homes studied was drastically affected by the bacteria people carry around with them every day.
Gilbert noted that these bacteria communities "settle in" quickly. An example from the study showed that one family's microbiomes only took a day to settle in a new environment and make its mark.
"The speed at which that colonization happens was quite remarkable," Gilbert said, in a statement.
Related Posts
Comments
About the Author
Sarah Scroggins, health enews contributor, is the director of social media at Advocate Aurora Health. She has a BA and MA in Communications. When not on social media, she loves reading a good book (or audiobook), watching the latest Netflix series and teaching a college night class.