Avoiding the 'back-to-school plague'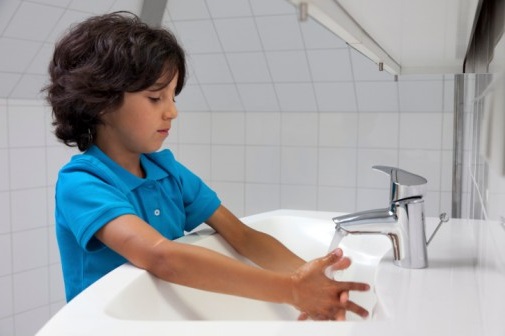 The kids have been sent back to school, and there's a good possibility they are going to bring something else home with them other than homework assignments – illness.
Although parents shouldn't completely cut their children off from germ exposure, health care experts at Elgin, Ill.-based Advocate Sherman Hospital agree that being up-to-date on vaccinations and practicing proper hand-washing techniques are the biggest deterrents to illness.
"We can't germ proof our children because these slight illnesses make our bodies and immune system strong," says Dr. Ulysses Magnanao, family medicine physician at Sherman Hospital. "Children need to make sure vaccinations are up to date and that they get a flu shot, and they have to wash their hands."
Elementary school children get eight to 12 colds or cases of the flu each year, according to the Centers for Disease Control and Prevention. For older students, it's about half that.
The viruses responsible for colds or the flu cause the most common sicknesses in schools, and even though a student may have immunizations, he or she can get other infectious diseases common in children such as colds, sore throats, coughs, vomiting and diarrhea.
"Germs can be found in the areas most frequented by all the students, and that increases the chances of spreading infections," Dr. Magnanao says. "We normally see more cases when children head to a new environment like school as a new year begins."
Danger zones for germs include the washroom, lunchroom, gymnasium, computer area and playground. More specifically, things like water fountains, door knobs, elevator buttons, toys and books carry the most germs because they aren't disinfected often enough.
Keeping students in the classroom requires a good night's sleep and eating healthy, but hand hygiene and proper cough etiquette are key when at school, says Kathy Aureden, infection prevention coordinator at Sherman Hospital. And, if soap and water isn't available, children should use hand sanitizer.
Other advice includes children avoiding contact with someone who is sick; sneezing or coughing into their sleeve, not their hands; not touching their face with unwashed hands; not eating or drinking from someone else's cup, plate or silverware; and throwing away gum, unused tissues, leftover snacks or drinks in a waste can.
"Parents and teachers must be role models," Aureden says. "They need to promote hand hygiene, encourage it when they see that a child didn't wash their hands when they should, and send children home if they appear sick."
Hand-washing tips include:
Wet hands with clean, running water, then soap
Rub soap into a gather lather thoroughly, getting the back of the hands, between fingers and under nails
Scrub hands for at least 20 second (Hum the "Happy Birthday" song two times)
Rinse hands well under clean, running water
Dry hand using a clean towel or air dry them
Related Posts
Comments
About the Author
health enews staff is a group of experienced writers from our Advocate Aurora Health sites, which also includes freelance or intern writers.