When morning sickness lands you in the hospital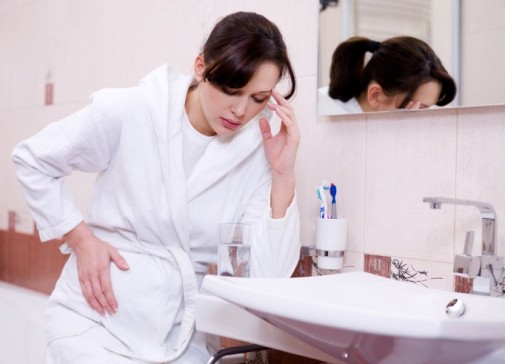 Hyperemesis Gravidarum. You may not know the term. You may not even be able to pronounce it. But this rare type of morning sickness is popping up in the news again, after the Duchess of Cambridge's announcement of her pregnancy with her second child.
Kate Middleton, who gave birth last July to the royal couple's first child, suffered from this very rare but severe form of morning sickness in the early weeks of her pregnancy. She spent four days in the hospital and has now been diagnosed with the sickness again.
"This type of morning sickness only occurs in about .5 percent of pregnancies," says Dr. Kevin Madsen, a maternal-fetal medicine subspecialist at Advocate Medical Group and director of maternal-fetal medicine at Advocate Good Samaritan Hospital in Downers Grove, Ill. "It's rare, but it can be a very trying time and downright awful."
Morning sickness is a normal side effect of pregnancy and typically occurs in the first trimester. The main symptoms include some nausea and vomiting that can occur at any time of the day.
Hyperemesis Gravidarum is a more severe and intense nausea and vomiting that could lead to hospitalization because of dehydration and poor weight gain of the child.
Dr. Madsen recommends that expecting mothers keep an eye out for these symptoms:
Extreme nausea and vomiting
A 5 percent weight loss or more of pre-pregnancy weight
Headaches
Dry mouth or altered taste
Low blood pressure
"Infants born to women with this condition are more likely to have low birth weight," Dr. Madsen says. He advises the following treatment options:
Resuscitate with intravenous fluids
Take anti-emetics (anti-nausea medications)
Eat dry foods frequently throughout the day
Monitor and replace electrolyte levels accordingly
"You should contact your physician if you feel something is wrong so that you can receive the proper treatment right away," Dr. Madsen says.
Related Posts
Comments
About the Author
Sarah Scroggins, health enews contributor, is the director of social media at Advocate Aurora Health. She has a BA and MA in Communications. When not on social media, she loves reading a good book (or audiobook), watching the latest Netflix series and teaching a college night class.