One family's gluten-free journey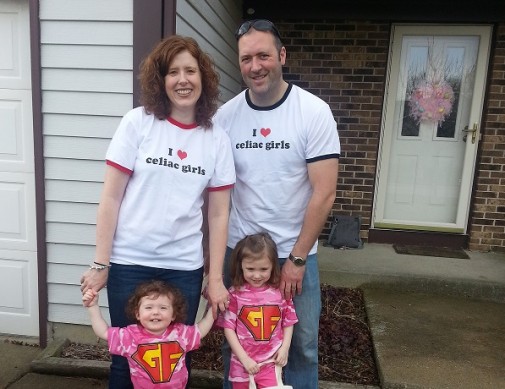 Kelly and Adam Bucheger, of Crystal Lake, Ill., didn't know much about celiac disease one year ago.
Celiac disease is an autoimmune disorder, and both of their daughters, Lorelai, age 5, and Emmalyn, age 2, have been recently diagnosed. Those diagnosed with celiac disease cannot eat gluten, a protein found in wheat, rye and barley. When gluten is ingested, it can lead to damage to the small intestine and other serious issues.
Kelly, a teacher, and Adam, a firefighter, were given the diagnosis for Emmalyn in January. Her distended belly and problems with dehydration and vomiting led pediatric gastroenterologist, Dr. Esperanza Garcia-Alvarez, at Advocate Children's Hospital in Park Ridge, Ill., to order blood testing and an endoscopy. Emmalyn was diagnosed with celiac disease. Her parents feel blessed to have received the diagnosis at such a young age.
"The earlier a diagnosis of celiac disease is made, the better," Dr. Garcia-Alvarez says. "An early diagnosis means that we can intervene and prevent further problems in the future."
While neither Kelly, nor Adam, have the disease, they immediately realized that the symptoms described for celiac disease fit their older daughter, Lorelai, as well. A short time later, Lorelai's diagnosis was also confirmed.
Today, with the help of the staff of the Pediatric Celiac Center, located at Advocate Children's Hospital in Park Ridge, the Bucheger family has a gluten-free home.  It has not been easy, but they feel they have the tools they need to make it work.
With more knowledge about the disease, where to shop for gluten-free products and tasty gluten-free recipes, the family is getting adjusted to this new lifestyle. Among other things, the adjustment includes taking gluten-free desserts to birthday parties for all the children attending.
"At the Center, we support the family in many ways," Dr. Garcia-Alvarez says. "We offer nutritional counseling, cooking classes, guidance with medications; all things that can be overwhelming at the time of the diagnosis."
Taking gluten out of their diets has made a world of difference, say Adam and Kelly.
"The best thing ever is the difference it has made in the girls," Adam says.  "They now have energy that is through the roof, even their teachers in gymnastics and swimming have noticed."
"Lorelai is so much happier these days," Kelly says. "We realized that she was probably not feeling good for most of her life. Now things are so much better."
If you live in the Chicagoland area, attend an upcoming open house on October 25, 2014 to learn how to have a gluten-free Halloween. Learn more.
Related Posts
Comments
About the Author
Evonne Woloshyn, health enews contributor, is director of public affairs at Advocate Children's Hospital. Evonne began her career as an anchor and reporter in broadcast news. Over the past 20 years, she has worked in health care marketing in both Ohio and Illinois. Evonne loves to travel, spend time with family and is an avid Pittsburgh Steelers fan!