Genetic testing and breast cancer prevention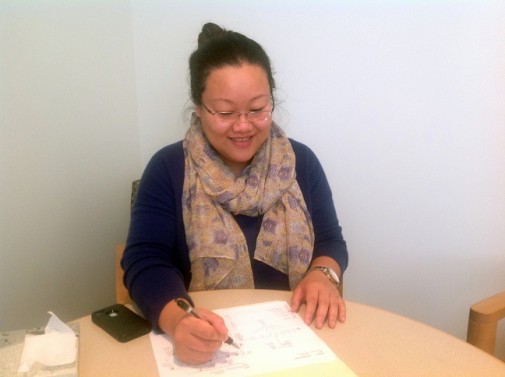 Some might not understand exactly what Vivian Pan does, but once explained, it's easy to realize the important role she plays in breast cancer prevention.
Pan is a genetic counselor with Advocate Medical Group on staff at the Cancer Care Center at Advocate Sherman Hospital in Elgin, Ill., spending her time helping patients understand their genetic testing and their risks of developing cancer.
Although other genes exist, the BRCA1 and BRCA2 mutations account for 70 to 75 percent of hereditary breast cancers, and five to 10 percent of all breast cancers, according to the National Cancer Institute. But, those who carry mutations in either gene have as much as an 85 percent chance of developing breast cancer.
Breast cancer is hereditary in between five to 10 percent of patients, Pan says, and all cancers involve genetics in one way or another, making genetic testing an important tool for people who believe they are at a higher-risk to develop the disease.
Pan sees her role as a genetic counselor as one where she helps people make important choices and teaches them how to cope with the results and devise a plan for their care moving forward.
"Genetics is complicated and most people don't know how to make sense of it," Pan says. "Helping patients make an informed decision is very rewarding. Genetics is also a super-interesting field all around."
Pan discusses a genetic counselor's role in helping patients understand their genetic risks:
Why is it important to identify these genes, especially BRCA1 and BRCA2?
Pan: We all have BRCA1 and BRCA2 genes. Those with a mutation in either of these genes have a significantly higher risk for developing breast cancer. Additionally, there are other cancer genes besides the BRCA genes associated with breast cancer. Identifying a pathogenic gene mutation helps us determine a patient's risk, what type of screening a person should have, how often he or she should have it, and explore the possible risk-reduction options like medication or surgery. For someone with breast cancer, it can also tell us about other cancer risks, and what it might mean for their family members.
Who's really at risk?
Pan: We look for people with cancer before 50, and if in their family there are more than three people on the same side with breast or ovarian cancer. Also, if there is a rare manifestation like male breast cancer somewhere in the family. Since these are genes we all have, mutations can affect both men and women.
It's also important to look at both mom and dad's extended sides of the family. A lot of people don't think about that. It's not just mom, dad, brother and sister, but cousins, aunts and uncles as well.
You should also think about genetic testing if you are Ashkenazi Jewish because you are at a higher risk than others.
How does a genetic counseling session work?
Pan: When people come in, we take a family history and draw it out for them in the form of a pedigree. We also ask certain questions about medical history, and have them bring any pathology reports, etc. We ask questions extensively, and go over the basics of cancer genetics, the pros and cons of testing, decide which test is most appropriate given the information collected, discuss implications and costs, and how long results will take.
How long does it take, and what happens afterward?
Pan: It takes about an hour to an hour-and-a-half for each patient. Testing results usually can take weeks to months, and then we talk about the results with the patient. We also give recommendations for their plans for the future.
Those written recommendations are also given to their physicians, and they together with come up with a care plan moving forward, which could include medications, an MRI or whether they are eligible for surgery.
This testing is important because we need to pick up affected individuals sooner and do something about it. Results can affect the treatment, the screening recommendations and what it means for other family members.
Related Posts
Comments
About the Author
health enews staff is a group of experienced writers from our Advocate Aurora Health sites, which also includes freelance or intern writers.