Even young kids at risk for eating disorders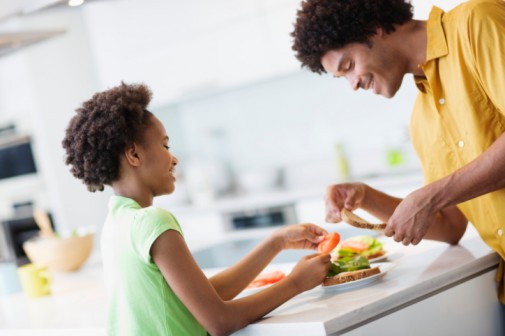 Eating disorders are more commonly found with adolescences and young adults. But a recent study took a look at the disorder in even younger children age groups..
According to the National Institute of Mental Health, an eating disorder is a mental illness that causes serious disturbances to your everyday diet. This includes eating extremely small amounts of food or severely overeating. Eating disorders are caused by a complex interaction of genetic, biological, behavioral, psychological and social factors. The types of eating disorders include anorexia nervosa, bulimia nervosa, and binge-eating disorder.
The study, conducted by researchers from the University of Montreal-Canada and CHU Sainte-Justine Children's Hospital, took a look at the psychological, socio-demographic and physiological characteristics of 215 children between the ages of 8 and 12 who developed eating problems. The children suffered from anxiety, mood disorders and attention deficiency. As a result, 95 percent of the children had restrictive eating behaviors, 69.4 percent were afraid of putting on weight, and 46.6 percent described themselves as "fat."
Dr. Gabrielle Roberts, clinical psychologist at Advocate Children's Hospital in Oak Lawn, Ill., says there is no known singular cause of eating disorders in teens and young adults, however, there are a number of risk factors that appear to be connected to the development of eating disorders in these age groups.
"These risk factors include personality traits, such as anxiety and perfectionism, genetic factors, and environmental or cultural factors, such as the value that is placed on thinness and the emphasis–or pressure– placed on being thin for certain activities or careers," she says. "Individuals who engage in dieting are at greater risk for developing an eating disorder and low self esteem may also put a teen or young adult at greater risk."
"If you have not yet discussed your concerns with your child, or you are unsure of whether he or she may have an eating disorder, it is best to approach your child or teen in a supportive, concerned and non-accusatory manner," Dr. Roberts explains.
She says it may be difficult not to refute statements that your child may say disparaging his or her physical appearance, but try to listen closely and learn about why he or she may have those beliefs before giving input.
"If your child feels as though you are trying to understand them, you are likely to keep the conversation going longer," she says. "Ask questions of your child and communicate to him or her that you are worried and want to help."
Dr. Roberts says the following tips for children and teens alike can help them maintain a healthy lifestyle:
Eat healthy and exercise: It is crucial to ensure that kids are maintaining a healthy weight and taking in enough food to give them energy for all of their activities. If parents have questions about their child's diet and exercise, they can talk to their doctor. 
Sleep: It's important for kids to get enough sleep. "The body and mind both suffer when you are not getting enough sleep – leaving you sluggish or grumpy," she says.
Do not neglect your mood: "A healthy lifestyle means doing things that make you feel happy, such as spending time with friends, listening to music and playing sports," she says. "If you find that you are often feeling sad, angry or worried, talk to a parent, school counselor or another adult you trust about what you are feeling so that you can get help."
Be smart: Dr. Roberts advises kids to make safe choices when it comes to the friends and activities they choose.
Dr. Roberts says that if your child or teen has signs of an eating disorder, it's important to seek treatment and professional help.
Related Posts
Comments
About the Author
health enews staff is a group of experienced writers from our Advocate Health Care and Aurora Health Care sites, which also includes freelance or intern writers.