Chronic digestive issues can lead to Barrett's esophagus – even cancer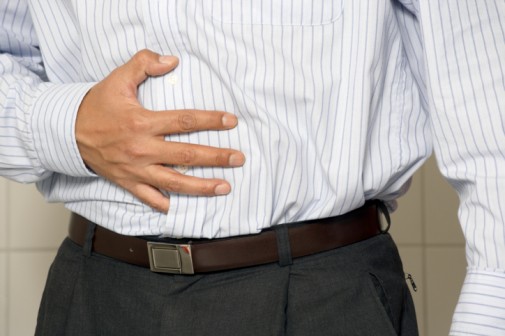 Ed Stade suffered from acid reflux for years.
He tried to control the symptoms with medication, but the damage had taken its toll, and he was diagnosed with Barrett's esophagus in his mid-50s.
"If a patient is diagnosed with Barrett's esophagus, it is important for them to determine their risk for esophageal cancer," says Dr. Rajesh Pillai, gastroenterologist on staff Advocate Sherman Hospital in Elgin, Ill. "[That risk] is based on the type of Barrett's and factors such as age, lifestyle and other medical conditions."
More than 18,000 people will be diagnosed with esophageal cancer in the U.S. this year, and almost 15,500 will die from it, according to the American Cancer Society. Severe acid reflux (GERD) and esophagitis can lead to Barrett's esophagus – stomach acid causing damage to the esophagus and abnormal cell changes.
Stade's primary care physician referred him to Dr. Lawrence Kosinski, gastroenterologist on staff at Sherman Hospital, who recommended a procedure known as ablation therapy. Dr. Pillai performed three ablation therapy procedures to removed Barrett's from his esophagus.
"Ablation therapy is one of the most widely accepted treatment options," Dr. Pillai says. "This procedure has a high success rate of eliminating Barrett's in the esophagus."
Depending on the extent of Barrett's, a patient may require two or three applications.
To help prevent acid reflux from causing Barrett's to return, Stade also decided to undergo hiatal hernia surgery. During the surgery, the stomach is essentially wrapped around the esophagus to prevent acid from coming into the chest and esophagus.
Symptoms of acid reflux, which may lead to Barrett's esophagus, include waking up because of heartburn pain, difficulty swallowing, chest pain and bloody vomit or stool.
The chance of getting esophageal cancer is low at younger ages and increases with age, according to the ACS. Less than 15 percent of cases are found in people younger than 55, and men are more than three times more likely to develop it.
While most people with Barrett's esophagus likely won't develop esophageal cancer, the risk of cancer is highest if dysplasia is present or if family members also have had Barrett's.
Because of the importance of early diagnosis, people experience acid reflux symptoms are encouraged to make an appointment with a physician.
Related Posts
Comments
About the Author
health enews staff is a group of experienced writers from our Advocate Aurora Health sites, which also includes freelance or intern writers.