7 ways to take care of caregivers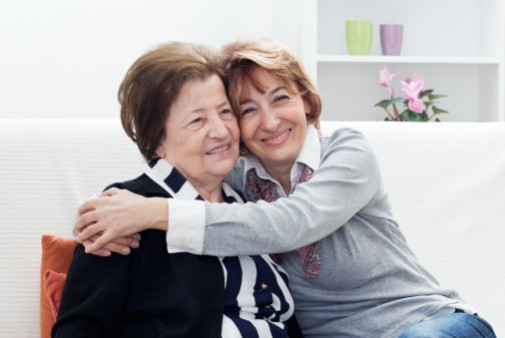 Stress. It's a word we're all familiar with. But people who care for loved ones experience severe stress that can be physically and emotionally disabling. November is National Family Caregivers Month.
According to the Family Caregiver Alliance's website, more than 65 million people in the United States are providing care to someone who is ill, disabled or aged. Fifty-two million people care for an ill or disabled adult. Whether they can't afford to pay for long-term care or they prefer not to allow others care for their family members or friends, people who provide care for a loved one have a lot on their plates.
The stress seeps in and can cause physical, emotional, and mental effects. It can also strain even the best relationships.
So what can be done to ease caregiver stress?
According to Dr. William Rhoades, geriatrician with Advocate Medical Group in Park Ridge, Ill., there are many things caregivers can do to reduce stress. Dr. Rhoades says first and foremost, it's important to find time to get away and take time for yourself.
A caregiver herself, Christine Rybicki, manager of community & government relations at Downers Grove-based Advocate Health Care agrees. She cares for her aging mother in addition to working a full-time job, and she knows the importance of taking some time for herself. She makes time to go out with friends once a week, and once in a while, she goes on a weekend trip to relax and unwind.
Caregivers often feel guilty about spending time away from their loved ones, but Dr. Rhoades stresses that there's nothing to feel guilty about. Caregivers need to care for themselves in order to be the best caregivers they can be.
"The less stressed caregivers are, the better care they're likely to provide, so in addition to making you feel better," he says, "reducing your stress levels by focusing some time on yourself will benefit the person your caring for as well. It's a win-win."
Dr. Rhoades says that caregivers spend 40-100 hours a week with the patient and 90 percent are affected emotionally with 75 percent reporting feeling depressed. That's why he says it's so important that the caregiver ensures that their own health is maintained and to schedule their own routine doctor visits.
There are many ways caregivers can take care of themselves and reduce their stress levels. Dr. Rhoades offers the following examples:
Exercise – We don't need to tell you about the great benefits of exercise, but it's so important for caregivers to get some form of exercise every day. Christine walks every day. Sometimes she takes her mom with her, and sometimes she goes out alone, but she makes it a point of walking every day.
Make a point of relaxing – Yoga can be an excellent stress reliever, as can meditation and positive visualization techniques.
Focus on the positive – Christine admits that it's not easy to care for someone full time, but she is very grateful to have this time with her mother. She thinks of all of the times her mother helped clothe, bathe, and feed her when she was young, and she feels like this is a wonderful opportunity to give that kind of compassionate care back to her mom. And it's also been a good way for her to get to know her mother on a different level, giving her a chance she wouldn't have had without the caregiving relationship.
Get a massage – Massage has many benefits, and it has been proven to reduce the stress hormone cortisol.
Find something you enjoy and do it every day – Even ten minutes a day of "you" time can go a long way to reducing your stress and making the caregiving experience a good one.
Ask for help – There's nothing wrong with asking for help. In fact, it's a great way to help you stay healthy. Whether you can get another family member to help or find trusted respite care, you should never feel guilty about asking for help.
Stay connected – Friends and family support is so important. Making a point of maintaining positive relationships can be a great help.
Related Posts
Comments
About the Author
health enews staff is a group of experienced writers from our Advocate Aurora Health sites, which also includes freelance or intern writers.