Exercise during pregnancy: What's the risk?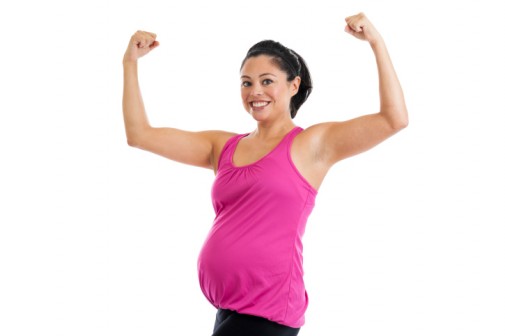 Alysia Montano ran the 800-meter race at the U.S. Track and Field Championships in less than 2 minutes and 32 seconds this year and received a standing ovation even though she finished last. Lee Ann Ellison posted photos of herself lifting 75 pounds above her head with ease. Meghan Leatherman did her one better and dead-lifted 215 pounds during her back squat routine.
All three of these feats are incredible in their own rights. But what makes them even more amazing is that Montano, Ellison and Leatherman were eight-and-half-months pregnant at that time. It has led many observers to wonder are these women going too far and possibly risking the injury to themselves and their babies? The opinions have been mixed among the medical profession.
Dr. Shelley Amuh, obstetrician & gynecologist at Advocate Trinity Hospital in Chicago, says every pregnant woman's case is different. A woman that was exercising consistently before she got pregnant can continue throughout her pregnancy, she says. But Dr. Amuh warns that the third trimester is the ultimate litmus test.
"Whatever you were doing before pregnancy, you don't have to be afraid of stopping when you are pregnant," she says. "Some mothers can handle a lot of things."
"However, there are things that you should watch in your third trimester and you should watch especially if you have underlying problems that could complicate the pregnancy," she says. "If you have to exercise throughout, then I would suggest swimming because you can do that up until delivery."
Montano, who finished fifth in the 2012 Summer Olympics in the 800-meter, ran throughout pregnancy. Her daughter was born in August. Both Ellison and Leatherman also delivered healthy babies this year.
Dr. Amuh stresses that women should continue to exercise and be physically active if possible throughout pregnancy.
Regular exercise appears to benefit both mother and baby in many ways. The American College of Obstetrics and Gynecology recommends that normally healthy pregnant women may continue an already-established exercise regimen. Regular weight-bearing exercise has been shown to improve maternal fitness, restrict weight gain without compromising fetal growth, and hasten postpartum recovery.
During low-level exercise, blood pressure and pulse responses are not dramatically different from those in the non-pregnant woman, but fatigue may be noticed earlier during exercise.
In addition, there are psychological benefits of feeling better mentally after working out and excessive weight gain can be bad for the mother and baby, causing a greater risk for c-sections.  But when it comes to weight lifting, women must be cognizant that they lose their center of gravity because of their new weight distribution so their balance may not be as steady as before.
Doctors say the main thing with all exercising is listening to your body. It will be the most reliable indicator on what you can handle, and more importantly, what you cannot.
"We still don't have good science to guide us," said Dr. Aaron Baggish, associate director of the cardiovascular performance program at Massachusetts General Hospital in Boston, which counsels elite athletes through pregnancy, in a New York Times articles in October. "But unequivocally I think women should exercise through pregnancy, both for their baby and their own health. The body has evolved that way. Your baseline fitness level is the best guideline: Elite athletes start out with a higher threshold, so they can do more."
Related Posts
Comments
About the Author
health enews staff is a group of experienced writers from our Advocate Health Care and Aurora Health Care sites, which also includes freelance or intern writers.