Craving a soda? What to drink instead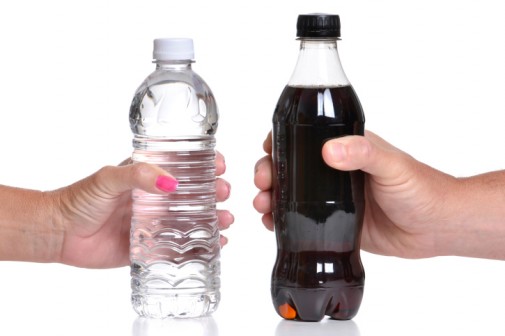 This month, voters in Berkeley, Calif., registered a first: They passed the nation's first soda tax.
In recent years voters in dozens of other cities and states have attempted soda taxes through ballot initiatives or legislation, but those efforts were unsuccessful. In Berkeley, the measure will levy a penny-per-ounce tax on most sugar-sweetened beverages. The tax primarily targets sodas, energy drinks and pre-sweetened teas. Supporters estimate it will raise more and $1 million a year, with proceeds earmarked for health programs as determined by a panel that will advise the City Council.
Now that such a tax has been approved in one city, some supporters believe other municipalities will come on board. One advocate, California Center for Public Health Advocacy Executive Director Harold Goldstein, believes when voters in other cities learn the truth about sugary beverages they'll support a tax, too.
But when it comes to sugar-sweetened drinks, just what is the truth? According to the Centers for Disease Control and Prevention, sugary drinks have been linked to poor diet quality, weight gain, obesity, and, in adults, Type 2 diabetes.
The American Heart Association reports that sugary beverages contribute to excess body weight, which increases the risk of developing diabetes, cardiovascular disease and some cancers. In a scientific statement on Dietary Sugars Intake and Cardiovascular Health, the association recommends that most American women should eat or drink no more than 100 calories per day from added sugars, and most American men should eat or drink no more than 150 calories per day from added sugars. For reference, one 12-ounce can of cola contains eight teaspoons of added sugar for 130 calories.
But knowing the facts and kicking the habit are two different things. Just ask anyone who has tried to quit smoking. Sometimes the urge to satisfying that craving is just too powerful to ignore. That's where health and wellness experts can help. They can offer advice and encouragement to those eager to cut back on sodas, pre-sweetened teas and other sugary drinks.
Jamie Portnoy, a registered dietitian for Advocate Condell Wellness Services and the Advocate Weight Management program in Libertyville, Ill., says she recommends adding fruits or vegetables to water to make it more appealing.
"If you are craving something sweet, try adding orange slices or strawberries. At most it is going to add 10 calories," she says. "Or be creative and add mint leaves, lemon, lime, different berries or spices."
What if you don't want to take time to use fresh produce? Portnoy has a suggestion for that, too.
"You can use Crystal Light to sweeten up your drink," she says. "Another alternative I generally recommend in the summer is to take Crystal Light and shake it up with water, place some in a paper cup and freeze it. Then you have a non-caloric popsicle that still hits that sugar spot."
Why is drinking water so important? Benefits include:
Regulating body temperature.
Removing waste from the body.
Carrying nutrients, oxygen and glucose to the cells for energy.
Providing natural moisture to skin and other tissues.
Cushioning joints and helping to strengthen muscles.
Promoting soft stools.
Portnoy says a person should consume half of his body weight in ounces of non-caloric, decaffeinated fluids per day up to 128 ounces. For example, a man who weighs 250 pounds should drink 125 ounces of water per day. At least 64 ounces must come from pure water.
Beverages could include water mixed with light drink mixers, caffeine-free colas, sugar-free flavored waters and decaffeinated coffee and tea. Furthermore, a person should not drink more than two cups (16 ounces) of caffeinated beverages per day, according to Portnoy.
"Aim to drink 64 ounces of water each day," she says. "Water is part of every body cell, tissue, organ and body process."
Portnoy suggests setting aside a container large enough to hold a full day's recommended amount of water and draw from it throughout the day.
"See how close you come to your target," she says. "Use a daily tracker to help keep you accountable."
Related Posts
Comments
About the Author
Kathleen Troher, health enews contributor, is manager of public affairs and marketing at Advocate Good Sheperd Hospital in Barrington. She has more than 20 years of journalism experience, with her primary focus in the newspaper and magazine industry. Kathleen graduated from Columbia College in Chicago, earning her degree in journalism with an emphasis on science writing and broadcasting. She loves to travel with her husband, Ross. They share their home with a sweet Samoyed named Maggie.