6 ways to avoid holiday heartburn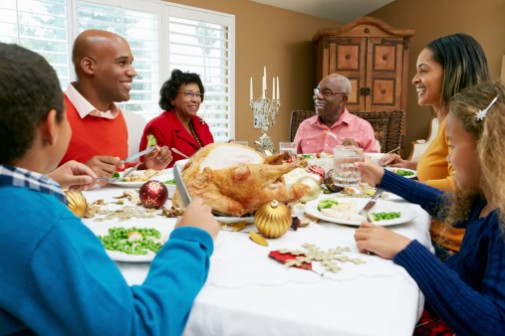 The holidays mean many things to many people—time with family and friends, dashing through the snow and, for some, indulging in food and drinks.
According to the American College of Gastroenterology, for about 60 million Americans the holidays bring bouts of burning in the stomach and abdomen, burping or regurgitation of acid in the throat, bloating or even nausea—gastroesophageal reflux disease (GERD) or, more simply, acid reflux.
Dr. Andrew Albert, gastroenterologist at Advocate Illinois Masonic Medical Center in Chicago, says the holidays can be one of the worst times of the year for his patients.
To help, he provides these six simple tips to avoiding acid reflux during this season of joy and heavy eating:
Avoid getting stuffed. The amount you eat has a lot to do with acid reflux attacks. The fuller your stomach, the more likely it will overproduce acids to break the food down and the more likely it will be to back up over the food into your esophagus. So graze rather than feast at your holiday parties and dinners.
One glass will do. Avoid over-imbibing, as alcohol is one of the most common causes of acid reflux for many people. So watch your alcohol intake. And go especially easy on the eggnog, which contains the double threat of brandy and heavy cream.
Just say no to minty treats. Mint, heavily available in holiday treats, is a notorious cause of acid reflux that many don't think about. And if you're already experiencing a bout, the mint will make the problem worse. So be sure to leave the candy canes and mint chocolates alone.
Early to bed. With the holiday full of commitments and celebrations, you may be up and eating later than normal. Be careful not to eat too late, as that is a common cause of acid reflux. And, if you end up feeling the burn, don't lay down—this will just make it easier for the acid to get further up into your esophagus and throat.
Don't ham it up. Though you may want a second or third helping of that delicious holiday ham, duck or roast, meats are a common cause of acid reflux, especially when prepared with heavy sauces. Balance your meal out with plenty of greens to neutralize the meaty acids.
Pass on desserts. If you're prone to heartburn, skip the dessert. Rich creamy frostings and cheesecakes will not only fill you up, but cause excess acid production. And the sweeter the taste, the more you'll be tempted to eat.
"All in all, it's just about being smart and paying attention to what you're consuming and what may trigger your reflux," Dr. Albert says. "It's all about moderation—enjoy your time with family and friends, but be careful not to overdo it."
If you do end up fighting a bit of acid reflux, there are many remedies, including over-the-counter antacids and natural treatments you can try.
And, he adds, two things to keep in mind no matter the season—get your exercise to balance the calories you're taking in and avoid tobacco products.
"So, no sitting around with the cigars and brandy this year," he says.
Related Posts
Comments
About the Author
health enews staff is a group of experienced writers from our Advocate Aurora Health sites, which also includes freelance or intern writers.