How yogurt can reduce diabetes risk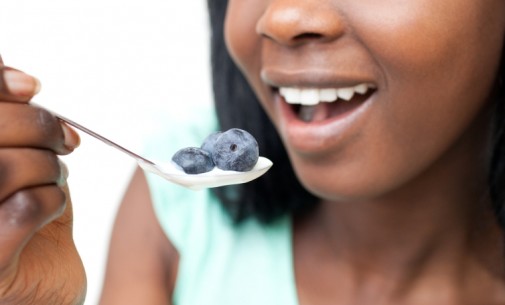 For years health experts have touted the benefits of a good night's sleep, sun protection and smoking cessation. They might want to add this to the list: a daily serving of yogurt.
Eating a serving a day of yogurt may lower your risk of developing Type 2 diabetes, according to a new study led by Harvard School of Public Health researchers. Published online at BMC Medicine and funded by the National Institutes of Health, the study also found other forms of dairy, such as milk and cheese, did not offer the same benefit.
"The study showed a positive but modest effect between yogurt consumption and control of Type 2 diabetes," says Rosemary Mueller, a registered dietician with Advocate Weight Management, which serves Advocate Condell Medical Center in Libertyville, Ill.
"I highly recommend low-fat yogurt to the population we work with – both for the nutrient density it provides and the satiety it produces. Having said that, we must also look to the fact that whole foods work in conjunction with each other and there is certainly no replacing a balanced diet, weight loss, if appropriate, and exercise in the prevention of Type 2 diabetes."
People with diabetes have high levels of blood glucose resulting from problems in how insulin in their body is produced, how it works or both. People with diabetes may develop serious complications, such as heart disease, stroke, kidney failure, blindness and premature death.
According to the National Diabetes Statistics Report for 2014, 29.1 million people in the United States has diabetes. That's 9.3 percent of the population. Type 2 diabetes is the most common form of diabetes. In adults, Type 2 diabetes accounts for about 90 to 95 percent of all diagnosed cases.
Researchers who conducted the Harvard School of Public health study looked at data from three large, long-running studies: the Health Professionals' Follow-up Study, the Nurses' Health Study and Nurses' Health Study II. Data for the three studies came from more than 100,000 participants, who answered questions every two years about their lifestyle and dietary habits and their health outcomes. The studies spanned decades.
The Harvard researchers drilled down to review data from the participants who developed diabetes. They found no correlation between dairy consumption and diabetes risk except with one food: yogurt. They found that one serving of yogurt per day was linked to an 18 percent lower risk of Type 2 diabetes.
In an interview with Forbes, the Harvard study's senior author said they were unable to determine the reason yogurt reduces the risk of diabetes, and he cautioned against making the assumption that yogurt will magically cure or prevent diabetes. Rather, he said, consumers must pay attention to their diet pattern.
Mueller agrees, saying there is no replacement for an overall healthy diet and maintaining a healthy body weight.
"Over the years, water-soluble fiber – a diet rich in oats, beans and legumes as well as ground psyllium seeds – have been implicated in assisting with better blood lipid and glycemic control," she says, adding that people who learn proper dietary balance can further limit excess simple carbohydrates and follow a balanced dietary regimen.
This would include plenty of non-starchy vegetables, fish, poultry and lean meats, whole fruits, heart-healthy fats and whole grains such as quinoa, whole wheat bread and oatmeal.
Mueller adds that low-fat dairy also is recommended as part of a balanced diet for control of blood sugar.
"One of the benefits we see to low-fat dairy in our program working with obese adults is both the calcium provision in yogurt and low-fat milk but also the effect of protein on satiety and hunger management, particularly in the evening hours, when lots of folks who struggle with food issues might start scavenging for snacks," she says.
In addition to adopting healthy eating habits, regular exercise also has been found to be beneficial by the American Diabetes Association, which offers tips for setting healthy diet and exercise goals and for staying motivated once a person decides to make positive food and fitness changes.
Related Posts
Comments
About the Author
Kathleen Troher, health enews contributor, is manager of public affairs and marketing at Advocate Good Sheperd Hospital in Barrington. She has more than 20 years of journalism experience, with her primary focus in the newspaper and magazine industry. Kathleen graduated from Columbia College in Chicago, earning her degree in journalism with an emphasis on science writing and broadcasting. She loves to travel with her husband, Ross. They share their home with a sweet Samoyed named Maggie.