The injury that cost Brandon Marshall the season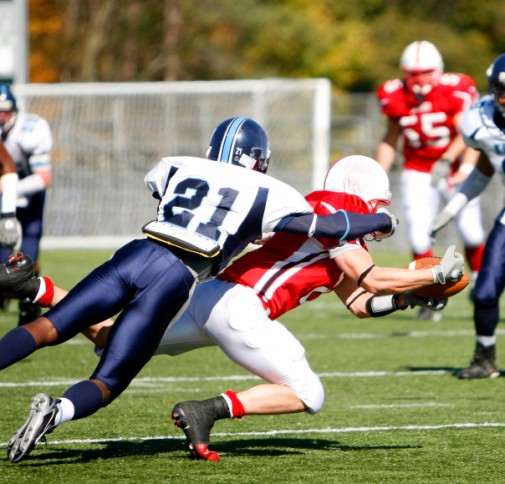 Chicago Bears wide receiver Brandon Marshall sustained a relatively rare football injury when he was kneed in the back during a recent game against the Dallas Cowboys at Soldier Field.
When the Cowboys defender connected with Marshall's ribs, the All-Pro wide receiver immediately reported chest pain and difficulty breathing. He was taking to the hospital and diagnosed with two rib fractures and a collapsed lung, also referred to as pneumothorax.
This is a serious injury, and often requires a plastic tube to be inserted into the chest to drain the excess air.
Our lungs are normally full of air, but it is confined to the respiratory passages and areas of blood and oxygen exchange. When there is a trauma to the chest, the pleura, or coating of the lungs, can become damaged, allowing excess air to fill around the lungs.
This can suddenly cause one of the lungs to collapse, and is what happened to Marshall.
Although broken ribs can be extremely painful, they almost always heal with conservative measures and don't require surgery.
Marshall was placed on injured reserve – thus ending his season – because the lungs and ribs will need a few months to heal.
There will be little to no long-term injury to his lungs and he should be able to return to the Bears next season without any restrictions, in my opinion.
Related Posts
Comments
About the Author
Dr. Jeffrey Kazaglis is an orthopedic surgeon on staff at Elgin-based Advocate Sherman Hospital who completed 22 years of military service. Dr. Kazaglis specializes in general orthopedics, fracture care, hand surgery, sports medicine, joint reconstruction and arthroscopic surgery of the hip, knee, ankle, shoulder, elbow and wrist. He lectures extensively on knee and shoulder problems with a focus on sports injuries.