Non-smoking teens turn to e-cigs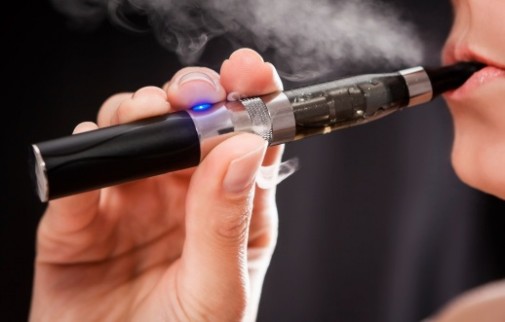 The growing popularity of e-cigarettes, with their variety of flavors and greater social acceptance, is leading to an increasing number of teens giving them a try, according to a new study published this week in the journal Pediatrics.
Researchers at the University of Hawaii Cancer Center found that nearly 30 percent of the more than 1,900 teens they surveyed in the island state had tried the electronic devices. An estimated 17 percent of those have used only e-cigarettes, while 12 percent report using both the electronic and tobacco-based products. The average age of the teens surveyed was 14 to 15 years.
"You have to think carefully about the risks and benefits of using either tobacco or nicotine, which is known to be an addictive substance," says Dr. Thomas Wills of the University of Hawaii Cancer Center and co-author of the study. "A lot of teens think it is easy to quit smoking, but it isn't true. It's hard for anybody to quit."
In addition, the researchers who conducted the survey also report:
67 percent of those surveyed consider e-cigarettes to be healthier than cigarettes
3 percent used cigarettes only
68 percent did not use either e-cigarettes or cigarettes
96 percent of the participants were aware of e-cigarettes
Dr. Willis says e-cigarettes are widely available in the absence of restrictions on their sale, which may explain the higher rate of use in Hawaii compared to the mainland.
"The marketing is very aggressive here," he says, with e-cigarette ads placed in areas highly trafficked by teens, such as movie theaters. Other reasons cited for the higher use in Hawaii could include the high tax rate on cigarettes in the state, making e-cigarettes more cost-effective, he says.
Dr. Kamala Ghaey, pediatrician with Advocate Illinois Masonic Medical Center in Chicago, says the variety of flavors, including cherry, mango, pineapple and vanilla, helps attract younger users, who may end up going on to try and get hooked on tobacco cigarettes.
"The flavors help get teens started—they're a great camouflage to the smoke," Dr. Ghaey says.
"There's no question in my mind that use of e-cigarettes is going up among teens and young adults," she says. "For some, their parents are approving their use. They don't realize they can get hooked on them as much as they can on tobacco products. In my mind, they're just as bad as regular cigarettes."
She says the medical community, as a whole, is pushing for regulations on e-cigarettes that mirror their tobacco-based counterparts. This, she says, will add weight to the risks, especially for teens.
Although the American Heart Association has come out in support of stricter regulations and more study into the long-term effects of e-cigarettes, the U.S. Food and Drug Administration has yet to enact any regulations other than the marketing of the devices for therapeutic uses.
Related Posts
Comments
About the Author
health enews staff is a group of experienced writers from our Advocate Aurora Health sites, which also includes freelance or intern writers.