Take a bite out of PMS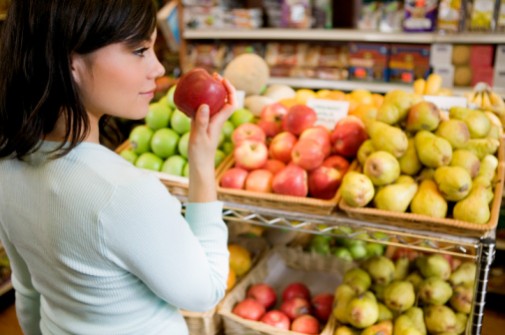 A trip to the grocery store could be just the medicine you need for treating premenstrual syndrome (PMS). By eating certain foods and limiting others, you may be able to avoid the cramps, mood swings, backaches, bloating and food cravings that many women experience during that "time of the month."
PMS is very common, with about 85 percent of menstruating women suffering from at least one symptom of PMS, according to the American College of Obstetricians and Gynecologists.
Follow these tips from Dr. Jennifer Balash, an obstetrician/gynecologist at Advocate Good Samaritan Hospital in Downers Grove, Ill., to help PMS symptoms become much more manageable.
What to eat
Eating foods that are high in calcium and vitamin D is very important, according to Dr. Balash. Symptoms of PMS can be due to the deregulation of vitamin D and calcium, which can be caused by a deficiency of these vital nutrients. Foods that are high in vitamin D and calcium include broccoli, spinach, cheese and milk.
In addition to vitamin D and calcium, some studies have shown that increased dietary intake of vitamin B1, vitamin B6, and riboflavins may also decrease symptoms of PMS. So can eating fruits and vegetables containing complex carbohydrates and low-fat protein. When selecting complex carbohydrates, consider foods made with whole grains and little added sugar, such as brown rice, whole wheat bread and oatmeal. Low-fat protein can be found in chicken, low-fat yogurt and beans.
Getting nutrients from dietary supplements can have serious side effects, especially if you are taking high doses of vitamins. As a result, Dr. Balash recommends talking to your doctor before taking any supplements.
What to avoid
Dr. Balash recommends avoiding foods that are high in salt, refined sugar, simple carbohydrates. Many processed foods like frozen dinners and canned soups are high in sodium, so buy reduced-sodium versions or make meals from scratch to limit the amount of salt. Refined sugars and simple carbs are found in sugary sweets like candy, cookies, and breads made with white flour. These can be substituted with healthier complex carbohydrates.
What to do
Exercise can help reduce PMS symptoms as well. It is a good idea for women to get 30 minutes of moderate aerobic exercise five times per week or 25 minutes of intense exercise three times per week and two days of strength training.
Dr. Balash encourages her patients who are experiencing severe PMS to keep a diary of what food they eat, what kind of physical activity they participate in and how they are feeling before their period. Over time, women should see a pattern and be able to avoid "trigger" foods that worsen PMS symptoms.
"If PMS symptoms are interfering with quality of life or the ability to perform normal activities of daily living, patients should see their physician," says Balash. "Also, if a patient has thoughts of harm to herself or others, she should seek immediate medical attention."
Related Posts
Comments
About the Author
health enews staff is a group of experienced writers from our Advocate Aurora Health sites, which also includes freelance or intern writers.