Why people get sick in winter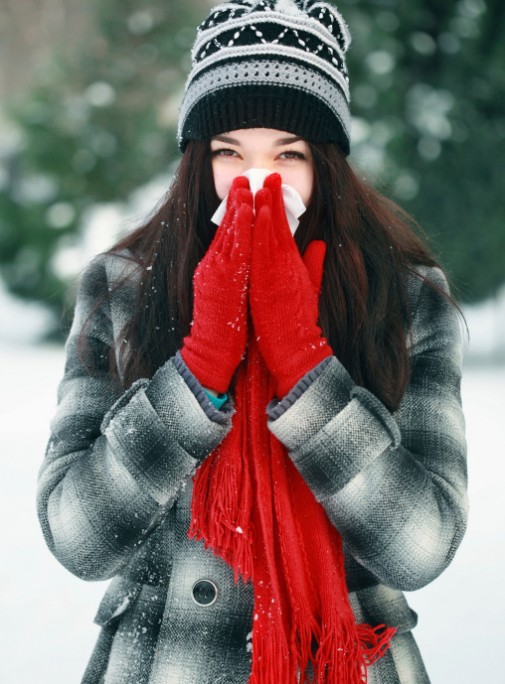 Nobody is surprised when people get sick during the winter. Now, a new study offers reasons for why it happens. Researchers from Yale University School of Medicine found that when internal body temperatures begin to drop because of the cold air and wind, the body's immune system also decreases in its ability to fight the virus that causes the common cold.
So how exactly does it all work? Researchers found that the common cold virus replicates best when your body temperatures are below 33 Celsius, which is typically all winter long. The findings showed that the body's indirect immune response to the cold virus was different and more potent when temperatures were warmer.
When inhaling cold air from outside, the temperatures inside the nose decrease and lower the overall body temperature. It is still unknown why the virus does replicate so quickly when cold. The findings are published in the current issue of the Proceedings of the National Academy of Sciences.
Dr. Donald Amuh, an infectious disease physician at Advocate Trinity Hospital in Chicago, believes there are a myriad of reasons why someone might get sick. But he mentioned the number one way to lower the chances of being sick.
Hand washing, hand washing, hand washing is so critical," says Dr. Donald Amuh. "You do so much with your hands. First off, we are a handshaking culture when we greet people. And after we shake those people's hands, we use those same hands to wash our face, to eat our food and to touch our eyes."
While Dr. Amuh jokes that some of those germs wouldn't get through if we were a fist-bumping society, he also added that even if we were, people need to recognize the need to wash their hands thoroughly throughout the day and not just in passing or as an afterthought. Most people just think about washing their hands after they use the bathroom or if something sticky or dirty gets on them.
"There are so many germs and bacteria that can be passed through the hands that we should really be more diligent about washing our hands," adds Dr. Amuh. "During the winter time as our immune system lowers because of the cold, then it can heighten the ability for those germs to spread and cause colds. That is why getting the flu vaccines and making sure you are up to date with other vaccinations becomes essential, especially in the winter."
Related Posts
Comments
About the Author
health enews staff is a group of experienced writers from our Advocate Health Care and Aurora Health Care sites, which also includes freelance or intern writers.