A physician's personal story with heart disease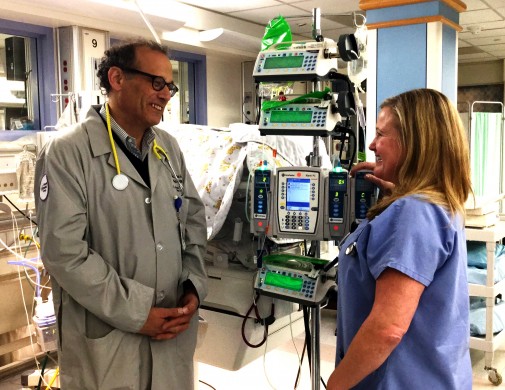 Dr. David Sheftel is a neonatologist and knows all of the symptoms of heart disease. As a physician, he is also all too familiar with the repercussions of ignoring those symptoms.
But, like many Americans, Dr. Sheftel, the Chair of Pediatrics at Advocate Children's Hospital in Park Ridge, Ill., put off seeing a doctor when he had an uncomfortable feeling in his chest after exercise. In fact, he waited a few weeks.
"I thought that I would live forever," Dr. Sheftel says. "I am a physician. I exercise regularly. It couldn't be happening to me. The reality is that it was happening to me. It had just crept up on me in a way I did not, at first, recognize."
Dr. Sheftel did finally see his internal medicine physician, Dr. Howard Becker, who is on staff at Advocate Lutheran General Hospital in Park Ridge, Ill. Dr. Becker reacted quickly upon hearing his symptoms.
"I had a stress test, then an angiogram. Before getting the results, I predicted that I would need a stent," Dr. Sheftel says. "I figured I would have the relatively simple procedure and be back to work in a few days."
Instead, Dr. Sheftel was told he needed bypass surgery. Three vessels were blocked: one 100 percent, another 90 percent and the third 80 percent. At the age of 62, he realized that his denial had kept him from recognizing a very serious condition.
"All of a sudden, health care and what health care professionals do every day became so very personal," Dr. Sheftel says. "I have always been in awe of what happens here. I just had never thought about this same team saving my life."
"They are an incredible team, with an incredible sense of purpose. I had complete confidence in them," Dr. Sheftel says of his care team. The group included Dr. Frank Lutrin, cardiovascular surgeon, and Dr. Leslie Brookfield, a cardiologist with Advocate Heart Institute.
Today, after six weeks of recovery, including cardiac rehabilitation, Dr. Sheftel is feeling great. "I didn't know how bad I felt before," he says. "I have also made some lifestyle changes. I am hoping that others will learn from my situation."
"Don't wait and hope the discomfort will go away," he says. "I was extremely lucky. It could have ended quite differently."
Do you know your risk for heart disease? Take our heart risk assessment here. If you are at high risk, see one of Advocate Heart Institute's cardiologists within 24 hours.
Related Posts
Comments
About the Author
Evonne Woloshyn, health enews contributor, is director of public affairs at Advocate Children's Hospital. Evonne began her career as an anchor and reporter in broadcast news. Over the past 20 years, she has worked in health care marketing in both Ohio and Illinois. Evonne loves to travel, spend time with family and is an avid Pittsburgh Steelers fan!