For new moms, pain after sex is common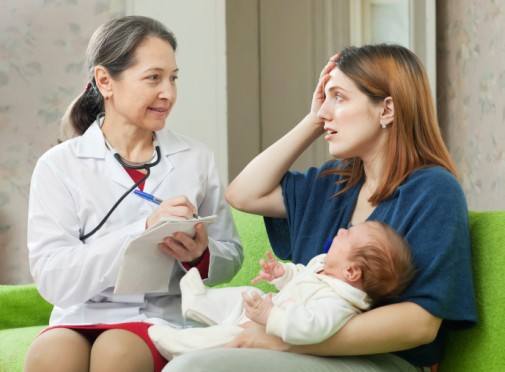 A new study published in BJOG: An International Journal of Obstetrics and Gynecology finds that most women experience pain the first time they have sex after childbirth.
In order to better understand these findings, researchers questioned 1,200 first-time mothers and found that almost nine in 10 experienced pain after having intercourse for the first time after giving birth. Research also found that a quarter of the moms also experienced pain up to 18 months after childbirth.
Author Stephanie Brown, a principal research fellow at Murdoch Children's Research Institute in Victoria, Australia, said two things surprised her and the other researchers.
First, almost all women experience pain the first time they have sex after childbirth, whether they resume sex in the first six weeks or delay it until three or even six months postpartum.
Second, there is a common assumption that women who have had C-sections are less likely to experience sexual difficulties after childbirth. But the findings concluded otherwise.
Dr. Meghan Cox-Pedota, an obstetrician and gynecologist at Advocate Condell Medical Center in Libertyville, Ill., was also very surprised about the results.
"I feel as though there is a general feeling among patients that they will have more problems with intercourse after a vaginal delivery," she says.
Dr. Cox-Pedota is encouraged that research is being done on this topic.
"I think female sexual dysfunction has not been a main concern in the past for medical professionals, but it can greatly affect a woman's quality of life," she says. "While more studies need to be done on this topic, this study is a great start to look at some of the long-term effects that a cesarean section can have on a woman's body and sexual function. I feel this is just another reason to try to encourage women to have a vaginal delivery as long as they are able."
Some medical experts say that most women tend to not to speak up about sexual difficulties unless directly asked.
Sex remains somewhat of a taboo topic, especially in the context of motherhood researchers said. They believe it's important for obstetricians to encourage women to talk about sexual difficulties if they may think that they are experiencing problems.
About one in six of the women questioned for the study told the researchers they experience abuse by an intimate partner within 12 months after giving birth. These women reported painful sex more often than the other women in the study.
Other factors associated with painful sex 18 months after giving birth include fatigue, depression and younger maternal age.
Related Posts
Comments
About the Author
Kathleen Troher, health enews contributor, is manager of public affairs and marketing at Advocate Good Sheperd Hospital in Barrington. She has more than 20 years of journalism experience, with her primary focus in the newspaper and magazine industry. Kathleen graduated from Columbia College in Chicago, earning her degree in journalism with an emphasis on science writing and broadcasting. She loves to travel with her husband, Ross. They share their home with a sweet Samoyed named Maggie.