Christine's story: Living a healthy life with Down syndrome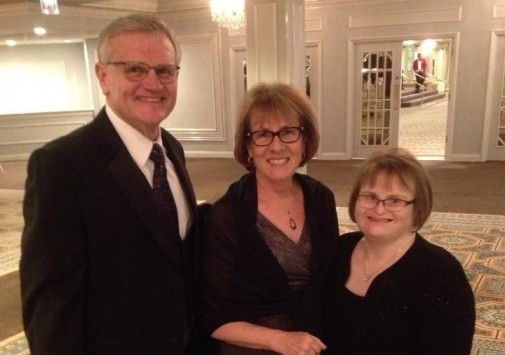 Christine Maxwell is in control of her life. The 38-year-old is very aware of what it takes to keep her healthy. She takes her medications and follows doctor's orders. She's a model patient. In fact, she makes presentations with her physician at conferences across the country. While this may not seem out of the ordinary, what makes Christine extraordinary is that she is a person with Down syndrome.
Diane and Joe Maxwell, Christine's parents, are very proud of their daughter. Christine's sisters are also very proud and look up to Chrsitine as a role model. Today, they marvel at Christine's take charge attitude about her health and life itself. It has not been easy. Even with a myriad of health problems common for adults with Down syndrome, including sleep apnea, asthma, thyroid issues and celiac disease, Christine wakes up every morning with a positive attitude and heads off to her job as an usher at a movie theater.
"There have been many factors that have contributed to Christine's success," says Diane Maxwell. She credits the Advocate Medical Group Adult Down Syndrome Center at Advocate Lutheran General Hospital in Park Ridge, Ill., for helping her family stay on top of health issues that can significantly alter a person with Down syndrome's life.
The Center provides medical and psycho-social care to adults and adolescents with Down syndrome. As the oldest and largest center of its kind in the world, it has served more than 5,000 patients in its 23-year history.
"There is such a depth of knowledge at the Center," Diane says. "They have seen it all before. The health issues someone with Down syndrome face are so different. Christine can share concerns with her peers—she has met so many people there."
In March, Diane will be watching with pride, as Christine tells her story to other Down syndrome families. She will be presenting at a unique celebration of the Healthy Me, Healthy You, Healthy Us which is a part of the celebration of the 10th anniversary of World Down Syndrome Day. The conference, held at Advocate Lutheran General Hospital, is for families affected by Down syndrome. Each presentation features a subject matter expert and a person with Down syndrome.
"Our goal is more than just having another conference," says Dr. Brian Chicoine, medical director of the Adult Down Syndrome Center.
"One of the unique aspects of this conference is having presentations from persons with Down syndrome. When we opened the Center 23 years ago, health care was done for people with Down syndrome. Now we are seeing people, like Christine, do their own health promotion.  One goal for this conference is to encourage people with Down syndrome to be participants in sharing and teaching health promotion for others."
Related Posts
Comments
About the Author
Evonne Woloshyn, health enews contributor, is director of public affairs at Advocate Children's Hospital. Evonne began her career as an anchor and reporter in broadcast news. Over the past 20 years, she has worked in health care marketing in both Ohio and Illinois. Evonne loves to travel, spend time with family and is an avid Pittsburgh Steelers fan!