The day the sky turned gray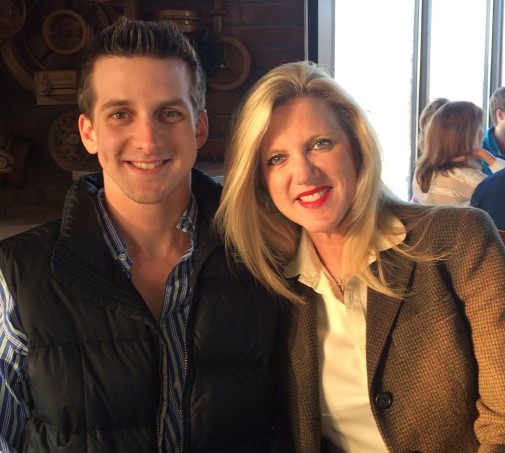 Depending on your age, you likely remember the exact place you were when JFK was killed, or Elvis died, or the Challenger disaster. It's like that, only different.
I keep replaying that very second – the second when I knew my son had cancer – over and over in my head. But unlike the world's tragedies that are so far away – this is so very intimate. And life hasn't yet restarted as it did after those other times – in fact the sky has not yet returned to blue – it continues to be a dark gray that hangs so very heavy.
Perhaps there is no help that I can offer others who may one day find themselves in this same space of darkness – perhaps it is something you must uncover your own way. However, I do hope that just perhaps a few of my early learnings may offer some insight to other moms who may one day face a similar darkness.
We are more than half way through our journey to a cure with an extensive and brutal chemo, surgery and radiation regimen that demands an overwhelming amount of inpatient and outpatient stays. I have found that the little victories along the way have at times allowed the clouds to part and the sun to peek through ever so briefly.
I have no doubt that as we reach the other side of treatment and my son embarks on his life once again cancer-free – my learnings and my views may change – but this is today.
1. One of the most heartwarming things a mom can encounter is the pure feeling of pride in her children. While there is undoubtedly strength in the pride we feel when our child excels in a sporting event, masters a test or reaches out to help others – I have never experienced the level of pride you feel when your child shows the strength and fortitude to embark on the battle of a lifetime. The way my 23-year-old son has fought this devastating news has filled my soul with a glorious feeling of pride – and for that I am grateful.
2. In late October, when we got the news, I recall one of the nurse practitioners telling me "you will really find out who your true friends are." I was puzzled, and honestly, that was the least of my concerns. But how true those words are today. It isn't to minimize the appreciation of each and every friend in your life, but the way that some people step up to fully embrace you with love, not to regain the friendship they had with you pre-cancer, but to journey with you to a new world of friendship. They accept that you are unable to give, as your heart and soul are working overtime for your child – yet they continue to provide endless, unrequested, above and beyond acts of kindness and encouragement. Undoubtedly this journey would not be possible without these amazing friends and family members.
3. I've spent nearly 22 years of my life in health care. In fact, my son battling cancer has been there with me every step of the way. As a young toddler, he attended the on-site daycare at the hospital where I worked and we commuted in together every day. The highlight of my days was walking to a meeting and passing him playing out on the playground, blowing kisses and waving as I walked by. I digress…I always knew it was the little things in this complex world of health care that truly made an impact on our patients. And now I know this to be truer than I ever realized. To the valet attendant who remembers my son's name every two weeks when we pull up and is always wearing his yellow "Pray for Jay" bracelet, to the nurse who recalls my son's passions and always takes the time to talk to him about the his favorite team or his work, to the doctor who gives us hope and belief in our cure, to the night staff who go an extra step to quietly close the door or to whisper as to not wake my son – these are the things we remember.
4. And finally – we could also benefit from a little more kindness. Wow that sounds cliché. I will never forget the day I received difficult news regarding some labs via a call on my cell phone. I turned my car around to get back home to my son. I delayed an extra second as the light turned green and was reaching for a Kleenex when I was greeted by loud horn honks and a nice middle finger from the gentleman behind me. Each one of us has so many stories deep inside – triumphs, defeats, sorrow and joy – that we must maneuver through each and every day. It is remarkable how much light a simple smile or someone holding an elevator as you walk down a hall or a text from a friend letting you know that you are in their prayers or even just someone letting you merge into their lane of traffic – can add to your world of darkness. I have to hope that this experience has enlightened me to be more kind to others.
Of course there are so many other things that I could share and perhaps I will as our journey continues. For today – hug your kids, cherish the moments and don't sweat the small stuff.
Related Posts
Comments
About the Author
Kelly Jo Golson, contributor to health enews, is chief marketing officer for Advocate Aurora Health.