Can beer pong make you sick?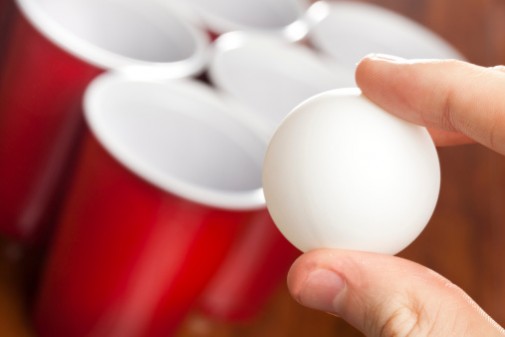 A popular drinking game among college students can lead to bacterial infections, says new research.
Beer pong is played with two or more players attempting to shoot a ping pong ball into the opponent's cup of beer. If the ball lands in the cup, the other team must drink the beer and remove the cup from the table. When the ball misses the mark and rolls on the floor it gathers a host of festering microbes.
A new study, published in the International Journal of Food Safety, Nutrition and Public Health finds that beer pong balls can transmit bacteria.
During the course of the game, researchers from Clemson University observed the game and found that the ping pong ball would land on work surfaces, carpeted floors, near uncooked meat at a barbeque or even on the ground where perhaps animal feces was present in the soil or lawn. Researchers also observed the ball being handled in player's hands.
The balls were collected from games played outside, as well as, played indoors.
When analyzing the ping pong balls, four types of microbes including salmonella, listeria, E.coli and staph were spotted. All of which have the potential of spreading influenza, Epstein-Barr virus (mononucleosis), strep throat, pneumonia and other infections.
"Ninety percent of bacteria are probably harmless, but by virtue of sheer numbers, you're taking a chance of getting sick," said Paul Dawson, lead researcher.
The study also found that games that were played outdoors had higher levels of contamination. When the game was played over carpeted surfaces there was a lower level of contamination.
The research team also deliberately contaminated Escherichia coli (E. coli) on the ping pong balls in order to see how effective the microbe would spread from the ball to the beer. The result, transfer was 100 percent.
Dr. Adam Treitman, infectious disease specialist with Advocate Medical Group in Oak Lawn, Ill., suggests that you might want to pick a different form of entertainment if you don't want to risk getting sick.
"Under the right circumstances, the host and pathogens can result in illness."
Although drinking games may seem fun and entertaining, binge drinking can have harmful effects. Doctors warn against using alcohol in any games.
"Binge drinking takes a tremendous toll on your body," says Dr. Adam Rubinstein, an internal medicine physician with Advocate Condell Medical Center in Libertyville, Ill. "Over time, binge drinking raises blood pressure and can significantly damage your liver."
Related Posts
Comments
About the Author
health enews staff is a group of experienced writers from our Advocate Aurora Health sites, which also includes freelance or intern writers.