We get the flu less often than we think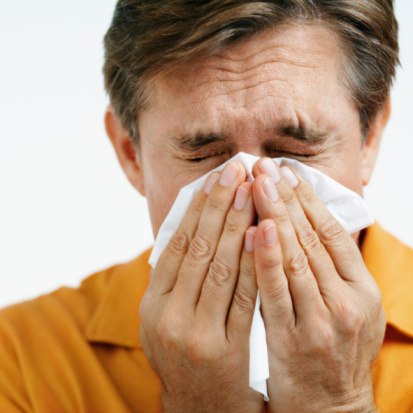 Flu season is not something we look forward to and with this year's flu shot being less effective than normal, the virus is widespread across many states. Researchers at Imperial College London may have a bit of positive news, a new study suggests that getting the flu is less common than we think.
Using blood samples from people living in southern China, researchers analyzed nine different strains of flu that have circulated for more than 40 years. They then used the results to trace the flu's history through the population.
Overall, they found that adults over 30 only get the flu about twice every ten years.
Children and teens aren't as lucky, though. The study estimates they get the flu, on average, every other year. Children may be more likely to get it because they mix in large groups more often and their immune systems have not been exposed to as many viruses.
Researchers hope their results help us learn more about how a person's immunity builds up over a lifetime of flu infections. The data may also be useful in developing future flu vaccines and understanding how the flu spreads through communities.
"There are a lot of misconceptions about the flu," says Dr. Kamo Sidhwa, an infectious disease specialist on staff at Advocate South Suburban Hospital in Hazel Crest, Ill. "People tend to believe that any sickness with flu-like symptoms is the flu. But there are so many different viruses circulating during the winter months – like the common cold and norovirus – that we often misdiagnose ourselves."
While the results of this study may reassure some, the flu is still serious business. For children under 2, adults over 65, pregnant women, and people with certain medical conditions, metabolic diseases like diabetes, or weakened immune systems are most at risk and the infection can be devastating.
On average, more than 200,000 Americans are hospitalized with the flu every year and perhaps as many as 49,000 Americans died from flu-associated causes between 1976 and 2006.
"People hear the flu shot 'isn't working' this year and assume it doesn't give any protection, but that's not true. Getting the flu shot still provides some protection against the flu and, even if you still end up sick, the vaccine has other benefits as well. It can make your illness milder, your recovery faster, and decrease your risk of needing hospitalization," says Dr. Sidhwa. "Getting vaccinated also slows the spread of the flu through your community, which helps protect those who need it most."
Related Posts
Comments
About the Author
health enews staff is a group of experienced writers from our Advocate Aurora Health sites, which also includes freelance or intern writers.