Watch out for toxic products around the house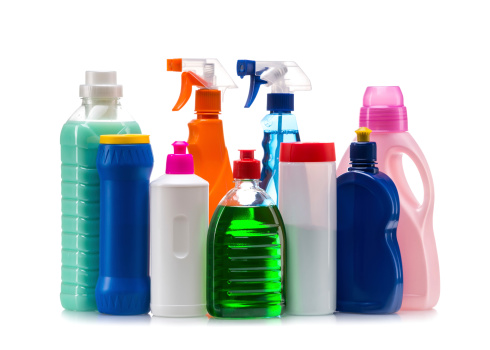 Poisoning is the second leading cause of injury related death in the U.S. The Centers for Disease Control and Prevention (CDC) estimates that poison control centers manage more than 2.3 million poison exposures per year.
What might surprise many is that the CDC reports that 90 percent of all poisonings happen in and around the home. Most of these poisons are things used regularly, often without special precautions to prevent misuse or abuse.
Dr. Deshon Moore, an emergency medicine specialist at Advocate South Suburban Hospital in Hazel Crest, Ill., sees many patients in the emergency department suffering the ill effects of household poisonings.
Dr. Moore has put together a watch list of four of the most toxic common products that people keep around the house:
Drain Opener/Cleaner: According to Dr. Moore, drain openers are very dangerous because they are caustic—meaning they are either extremely acidic or extremely basic on the pH scale. A caustic substance can cause significant chemical burn injury to any body tissue it comes in contact with—eyes, skin, mouth or lungs.
"Drain cleaners are extremely toxic and very common around the house, a very dangerous combination," Dr. Moore says. "Even a small sip of these products can cause serious damage to the tissues of the throat, stomach and intestines."
Windshield Washer Fluid (methanol): Anyone who owns a car probably has a supply of this in their trunk or garage. Dr. Moore says that most people never consider it dangerous. But, because of a chemical reaction once its' ingested, it doesn't take much to do serious harm.
"Ingestion of just 3-7 ounces without treatment can be fatal to an adult, and even less can cause permanent blindness," he says. "The liver converts methanol into another chemical which damages the eyes and makes the blood dangerously acidic."
Dr. Moore points out that antifreeze, another poison very common in and around cars, contains ethylene glycol (a cousin to methanol) also very toxic.
Rust Remover/Wheel Cleaner: Dr. Moore says that people should be extra careful with the cleaners containing hydrofluoric acid.
"Once the hydrofluoric acid enters the body, whether by ingestion, skin exposure or inhaling, this acid binds up the calcium in your body," Dr. Moore says.  "Once that happens, the calcium can't be used for other important things it needs to do, like enabling your heart to continue beating."
Medication: "Many medicine cabinets contain some of the most powerful chemicals around the home," Dr. Moore says. "Drugs and medicine can do great things for people, but they can also be very poisonous in the wrong amount, or in the wrong person."
According to the CDC, 91 percent of unintentional poisoning deaths are due to drugs and medications. Misuse and abuse of prescription pain medications are, by far, the type of medication that causes the most deaths each year.
Dr. Moore does not recommend extreme precautions such as ridding your house of all of these items. However, he does recommend a few tips to ensure everyone stays safe:
Always use cleaners and household chemicals as instructed on the label.
Never mix cleaning products or any household chemicals; toxic gases can result.
Never take more medicine than instructed to by your doctor.
Don't share medication.  If you have pills left you are no longer using, dispose of them properly and promptly
To prevent drug interactions, make sure your doctor and pharmacy know ALL of the medicines you are taking
Always use child resistant caps—but remember, they are child-resistant, not child-proof.
Store all medications and household products in their original containers away from food products, locked out of sight and reach of children.
If you think someone may have been exposed to any potentially harmful substance or poison, call the free Poison Help Line at 1-800-222-1222.
Related Posts
Comments
About the Author
Nate Llewellyn, health enews contributor, is a manager of public affairs at Advocate Medical Group. Nate began his career as a journalist and builds daily on his nearly 20 years of writing experience. He spends most of his free time following his wife to their two sons' various activities.