Beating fibroids with robotic surgery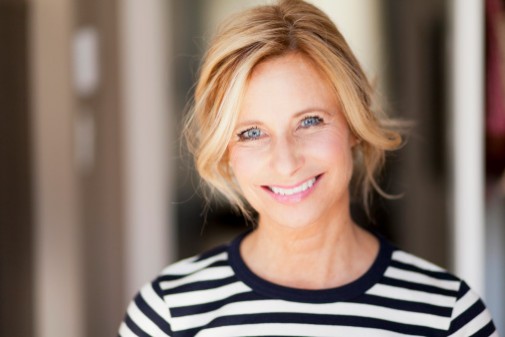 Kimberly Olsen was on an emotional rollercoaster.  The Lake Villa, Ill., mother of five was only 40 years old when her menstrual cycle began spinning out of control.
The bleeding was erratic, sometimes lasting two weeks. And at times the flow was so heavy that Olsen became anemic. Not only was it inconvenient, it was painful, too. Her stomach was constantly bloated and tender and cramps were so agonizing they kept her awake at night.
"I felt like I had no control over my body any longer," says Olsen. "I was unable to plan vacations or wear certain clothing for fear of "accidents."
She struggled like this for two full years.
"I had so much going on in my life that, as most mothers do. I put off taking care of myself and just dealt with the pain and inconvenience," she explains.
Finally she had enough and made an appointment with Dr. Eileen Morrison, an Advocate Condell Medical Center obstetrician and gynecologist who had delivered Olsen's grandson.
Dr. Morrison explained treatment options available to address the heavy bleeding which was due to fibroids. These included birth control pills, endometrial ablation and hysterectomy. After weighting her options, Olsen decided to have a hysterectomy.
According to the Centers for Disease Control and Prevention, approximately 600,000 hysterectomies are performed in the United States every year and one-third of American women will have the procedure by the time they turn 60.
Technological advancements now make it possible for specially trained physicians to perform the procedure with assistance from a robot. Olsen opted for the robotic procedure for its many benefits.
"Ergonomically it's easier," says Dr. Morrison. "I have the ability to move these instruments the way I'd move my hands naturally."  Some of the other benefits include:
A smaller incision at a single site
Less pain
Less pain medication
A shorter hospital stay
An easier recovery
Less risk for complications such as bleeding or infection
"Usually there's no overnight stay," Dr. Morrison said.
For Olsen, the surgery could not have gone more smoothly. When she arrived at Advocate Condell Medical Center the morning of the procedure, everyone who was going to be in the operating room met with her in advance and explained their role. At 4 pm, about 10 hours after her arrival, she was heading home.
"I took pain medication for about three days, then just Advil," says Olsen. "I was back at work within two weeks."
Olsen said she experienced a little bit of pressure, a little bit of a feeling of heaviness, but almost no pain. She was fatigued and there was some achiness due to the air that was pumped into her belly to distend it and give Dr. Morrison a better view and more room to work. Beyond that, she had little discomfort.
Olsen followed up with Dr. Morrison two weeks later. Within a month, the internal stitches in her belly button had healed.
"Then I followed up again in six weeks and Dr. Morrison said everything looked fantastic, see you in a year," she says. "Everything's been wonderful since then."
To learn more about hysterectomies click here.
To hear more about Kimberly Olsen's journey click here.
Related Posts
Comments
About the Author
Kathleen Troher, health enews contributor, is manager of public affairs and marketing at Advocate Good Sheperd Hospital in Barrington. She has more than 20 years of journalism experience, with her primary focus in the newspaper and magazine industry. Kathleen graduated from Columbia College in Chicago, earning her degree in journalism with an emphasis on science writing and broadcasting. She loves to travel with her husband, Ross. They share their home with a sweet Samoyed named Maggie.