How much water should you drink on race day?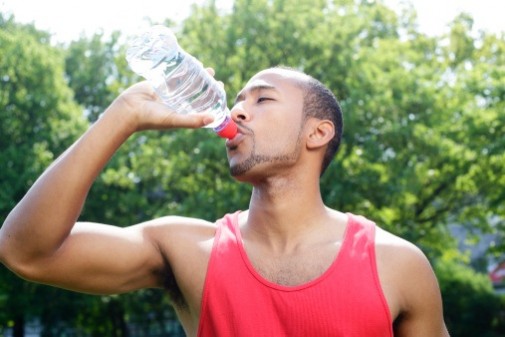 Whether the Bank of America Shamrock Shuffle 8K is your first race or you've run in dozens, someone has probably warned you to stay hydrated before the run.
While drinking water is important, too much can be too much of a good thing.
For amateur and seasoned runners alike, keeping your hydration habits consistent between training runs and race day is important. For more seasoned runners who are used to training in these conditions, it may not be necessary to hydrate during the race itself. However, for newer runners or those who typically drink water along their run, hydrating along the course may be a good idea.
The most important key to hydration is listening to your body. Until recently, runners were encouraged to hydrate at every single water station along a race course, which commonly led to overhydration. What we have learned from this is that our bodies know when they need water, so if you are thirty, you should drink.
Like dehydration, overhydration is a serious concern for runners. It can contribute to symptoms such as nausea, headaches and feelings of delirium or confusion, as well as hyponatremia, a condition of low sodium in the blood, which can be life-threatening.
Two simple tests can help determine if you are drinking the right amount of water during a workout:
Check your urine – If it is clear, that means that you are adequately hydrated.
Watch your weight – Weigh yourself before and after a run. If you weigh more after a run than you did before, you are overhydrated. It is typical and normal to lose a small amount of weight during a race.
As you train for race day, see what hydration techniques work best for you in your training. This will help you have a successful run.
Related Posts
Comments
About the Author
Dr. Charles A. Crotteau is a family medicine physician with Advocate Medical Group in Chicago and the Medical Staff President of Advocate Illinois Masonic Medical Center. He is the proud father of two girls and a sub-three hour marathon runner- who will run his 6th consecutive Boston Marathon on April 20, 2015. In addition, he has run the Shamrock Shuffle two times and completed three half Ironman races. Later this year he will compete in his first full Ironman.