Pitch counts could prevent shoulder injuries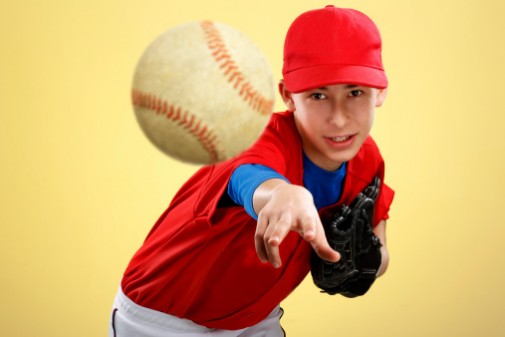 With Little League Baseball season just around the corner, youth coaches, players and parents might want to take note of a new study on pitch counts.
Researchers found that young baseball pitchers who throw more than 100 pitches per week are at risk for a painful overuse injury called acromial apophysiolysis, which can disrupt normal shoulder development.
"This new evidence of another overuse injury brought on by repetitive stressful movement should inform physicians, parents, player and coaches," says Dr. Venkat Seshadri, orthopedic specialist on staff at Advocate South Suburban Hospital in Hazel Crest, Ill. "While there is no need for teens to avoid pitching, there does seem to be significant short and long-term risks of overdoing it."
The injury can lead to additional problems, including rotator cuff tears. The acromion is at the top of the shoulder where the collar bone attaches, and typically develops during the teen years when four bones fuse into one. Frequent throwing at a high speed puts this area under stress.
Researchers noticed that young athletes, particularly pitchers, were often going to their physicians complaining of shoulder pain and showing swelling at the acromion on diagnostic imaging scans.
Statistical analysis of the shoulder pain showed that throwing more than 100 pitches per week was a significant risk factor for developing acromial apophysiolysis. About 40 percent of patients with the condition threw more than 100 pitches per week, compared with 8 percent in a control group.
The researchers also looked into long-term consequences and found lingering effects for those with acromial apophysiolysis. Follow up MRIs or X-rays showed 86 percent of patients who previously had the condition demonstrated incomplete growth of the acromion, opposed to only 4 percent in the control group.
"As more research is done on youth baseball players, it is becoming clear that overuse injuries for pitchers are common and potentially serious," says Dr. Seshadri.  "But, this latest study shows that limiting innings pitched to a reasonable level, along with proper fundamentals, can protect kids' arms."
Related Posts
Comments
About the Author
Nate Llewellyn, health enews contributor, is a manager of public affairs at Advocate Medical Group. Nate began his career as a journalist and builds daily on his nearly 20 years of writing experience. He spends most of his free time following his wife to their two sons' various activities.