Are your nightmares caused by anxiety and depression?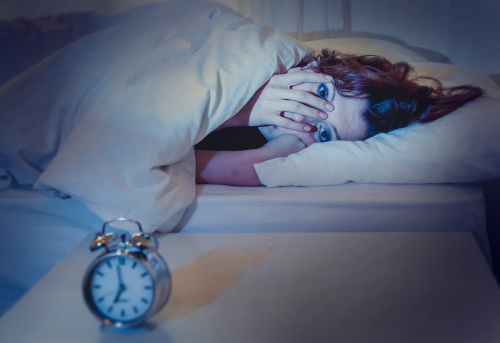 Waking up with a pounding chest after a nightmare is a feeling that everyone has likely experienced, and while an occasional nightmare isn't unusual, some suffer from frequent heart-racing dreams that induce terror and anxiety.
A new study suggests that depression, insomnia and fatigue are strong risk factors for chronic nightmares. Researchers analyzed data from two independent surveys of nearly 14,000 men and women who answered a questionnaire on their sleep and lifestyle habits.
"It is well known that people with depression have more recurring nightmares,"  says Dr. Muhammad Hamadeh, pulmonologist at Advocate Christ Medical Center in Oak Lawn, Ill. "If nightmares stem from depression, their mood disorder should be addressed and treated by a psychiatrist in an effort to reduce nightmare frequency."
The study published in the Sleep journal showed that 3.9 percent of participants experienced frequent nightmares during a 30-day period. Recurrent nightmares were reported by 28.4 percent of participants with symptoms of depression and 17.1 percent of participants with ongoing insomnia.
"Our study shows a clear connection between well-being and nightmares," said Nils Sandman, lead study author and researcher in the Centre for Cognitive Neuroscience at the University of Turku in Finland, in a news release. "This is most evident in the connection between nightmares and depression, but also apparent in many other analyses involving nightmares and questions measuring life satisfaction and health."
Study leaders also found a strong correlation with nightmares and the heavy consumption of alcohol and use of antidepressants or hypnotics.
Dr. Hamadeh says that occasional nightmares are not a cause for concern. They only become a problem when the sleep pattern becomes interrupted and daily activities become difficult to perform. Sleep deprivation and restless leg syndrome can also cause nightmares.
In order to have the most restful night's sleep, Dr. Hamadeh recommends people practice good sleep hygiene skills by maintaining a consistent sleep schedule, skipping daytime naps, and avoiding alcohol, nicotine and caffeine.
Related Posts
Comments
About the Author
Julie Nakis, health enews contributor, is manager of public affairs at Advocate Children's Hospital. She earned her BA in communications from the University of Iowa – Go Hawkeyes! In her free time, she enjoys spending time with friends and family, exploring the city and cheering on the Chicago Cubs and Blackhawks.